ExxonMobil (NYSE:XOM), Houston based integrated oil and gas major, has a market capitalization of over $420 billion, the second biggest of all publicly owned companies. Earnings in the past twelve months were $34.1 billion on sales of $422 billion. Yet the company faces a problem: Production of oil and gas has been declining for the last couple of years.
A partnership with Russian oil and gas company Rosneft aims at exploring the large amounts of oil and gas in the Russian arctic and thus offsetting production declines.
Russian oil and gas reserves
At 10.5 billion tones Russia holds the world's eight largest oil reserves, or about 5% of the world's total reserves. Russian oil resources (existing oil which can not be extracted today due to technical or economical reasons) are estimated to be 24.5 billion tones, the world's third largest (about 8%).
Russia also holds the world's largest gas reserves at 47.5 trillion cubic meters (about 25% of global reserves) and additional gas resources of about 142 trillion cubic meters (about 27% of global resources).
Most of these are located in western Siberia, around Sakhalin island, North Caucasus and the Caspian Depression.
ExxonMobil and Rosneft Strategic Cooperation
ExxonMobil and Rosneft have been working together on Sakhalin-1 since 1996.
In 2011 ExxonMobil and Rosneft announced a Strategic Cooperation Agreement which includes:
- Joint venture formation for Kara Sea and Black Sea projects
- Joint West Siberia tight oil project
- LNG development in Russian Far East
- Creation of Arctic Research Center
Of these, the first point seems to be the most important one. Two joint venture companies have been founded: Tuapsemorneftegaz SARL (Black Sea) and Karmorneftegaz SARL (Kara Sea). ExxonMobil holds one third of interest in the two companies, with Rosneft holding the majority stake of two thirds. The two companies will invest at least $3.2 billion for exploration in the Kara Sea.
In 2013, ExxonMobil and Rosneft included 7 new blocks in their cooperation. Those new blocks are located in the Chukchi Sea, Laptev Sea and the Kara Sea and span 600,000 square kilometers.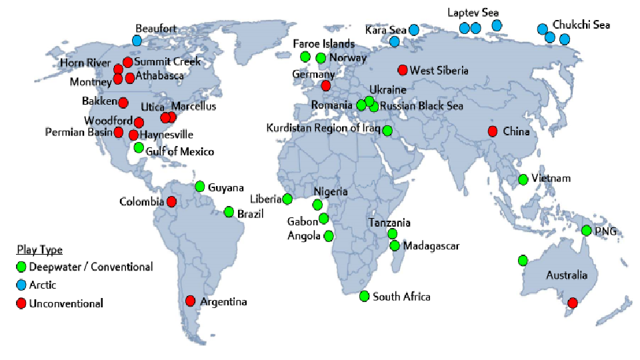 In this image (Source: ExxonMobil Investor Presentation) you can see ExxonMobil's involvements in the Russian Arctic Sea as well as in the Black Sea.
Collection of data for the Kara Sea and Black Sea operations has begun in 2013 and the first drilling operations have started just now.
These operations are very long-term, right now there is no production in the Russian Arctic Sea and it is not definite that there will be any in the future. The investments ExxonMobil is making in the Russian Arctic won't pay off any time soon, yet if the results of the exploration programs are as expected by the two companies, this could become a very worthy investment for ExxonMobil, allowing them to get a part in huge amounts of production for decades.
This cooperation could result in giant investments of tens of billions in the initial phase (ExxonMobil officials say) to up to $500 billion in total (Russian sources say).
The cooperation between the two companies has so far not been affected by Western sanctions, the two companies themselves state they want to keep their cooperation running as they are very long-term in nature and political tension between Russia and the West will fade eventually. ExxonMobil has good relationships with the Russians, this went so far that Putin awarded ExxonMobil's CEO Rex Tillerson with the Order of Friendship.
Bottom line
Although tension between the West and Russia has been rising, the two companies involved in this partnership stay committed to the agreement's long-term goals. Especially the operations in the Russian Arctic offer a huge potential for ExxonMobil if the amounts of oil found in the Arctic Sea are as high as the two partners assume they will be. This cooperation could provide ExxonMobil with the possibility to expand production for decades - but it will also take quite some time till commercial operations can begin.
Disclosure: The author has no positions in any stocks mentioned, and no plans to initiate any positions within the next 72 hours. The author wrote this article themselves, and it expresses their own opinions. The author is not receiving compensation for it (other than from Seeking Alpha). The author has no business relationship with any company whose stock is mentioned in this article.