There is currently an expanding list of nearly 20 ETFs oriented to primarily REITs (Real Estate Investment Trusts) with more on the way. The following analysis features a fair representation of ETFs available. We believe from these investors may choose an appropriate ETF to satisfy the best index-based offerings individuals and financial advisors may utilize.
Despite the overall poor condition of U.S. real estate markets REITs gain more acceptance given their unique characteristics. REITs are generally divided into commercial and shopping malls, office properties, hospitality and apartment rentals. Most of these sectors are doing just okay while there is a boom in apartment construction and rentals making that sector healthy. Many REITs offer very good yields and demographics in the U.S. especially feature an investor appetite for higher dividends. However, investors should be careful to remember often dividends can be combined with return of principal making for potential tax considerations.
ETFs are based on indexes tied to well-known index providers including Russell, S&P, Barclays, MSCI, Dow Jones and so forth. Also included are some so-called "enhanced" indexes that attempt to achieve better performance through more active management of the index.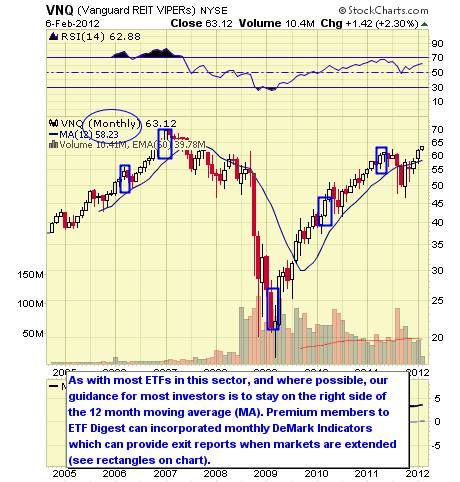 Read More...