December 10, 2009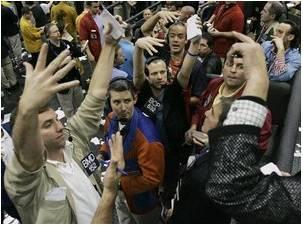 BOND VIGILANTES AT WORK
As the old saying goes, "you can fool some of the people some of the time, but ________"  In other words, don't mess with bond traders since eventually the shell game of bond auction switcheroos (Treasury sells to dealers and dealers sell to the Fed) will come to an end.  The Fed's balance sheet which carries these instruments as assets will eventually fill.
Stock market bulls can turn a blind eye to the immense flow of government deficit financings, remember it's December and since 2000, markets have climbed around 7% during this month.  Ho, Ho, Ho, tis the season to ignore stubborn facts for another day.
I really don't know what stimulated today's rally beyond "hope" and the season.  MarketWatch stated markets rose due to "a decline in continuing unemployment claims."  This seemed like spin since claims were much higher than expected and we're losing jobs every day.  Others stated the low dollar was helping exports as the trade deficit narrowed to only $32 billion last month.  Is that low?
No matter, the tape is the tape and bulls have things in hand.
Volume was incredibly light while breadth was positive.


READ MORE!