No matter which way you turn the tables, AAPL has taken over the world. ETFs rise and fall according to their holdings and relationship to AAPL. After more than a year of bailouts and headlines about Greece moving markets, its ultimate default on their bonds was a one hour event in the markets. Even the air is being sucked out of U.S. Treasuries as AAPL is now considered an asset class of its own, despite not even having a dividend.
Certainly, the Fed's planned leak of a "sterilized" QE3 was so convoluted and obtuse that no one had any idea of its effect on the market so traders just bought AAPL. There is literally a panic in the streets to buy AAPL.
Top Performers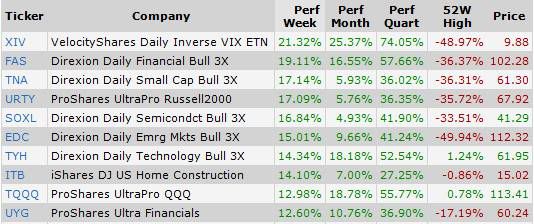 The non-event of Greece defaulting on its bondholders, gave the market the "risk on" signal despite some of the most anemic volume we've seen in years. Financials, most hurt by Greek default, became the prized trade. Small caps, which were.........