March 17, 2010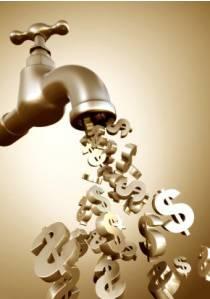 WHEN THE FED TURNS OFF THE TAP

We're seeing follow-through from bulls which gives sympathetic headline writers plenty of material.  For me, I'm with this guy who states current conditions better than me—besides he saves me time. Just remember, assuming they're true to their word; the Fed will stop buying mortgage-backed securities (cash for toxic waste) at the end of this month.  But, all these Fed activities are the reason all ships have risen with this tide.
This means a large amount of liquidity for Da Boyz should dry-up. 
The primary reason markets are where they are is due to this overwhelming money printing the Fed has then injected to banks and others.  It has led to low volume rallies as Main Street isn't an eligible beneficiary of this largesse and hasn't participated.  Of course you can accept the trickle-down effect where your 401K is now in better shape.
 Markets are overbought from virtually every view and indicator....READ MORE!

Sign up to receive free Dave's Daily notifications sent to your email address only at http://www.etfdigest.com