What Yellen can achieve
Wall Street jumped, as expected, just because no shot was fired at the Crimea. Let's look if that jump, together what we can realistically expect of Yellen, will be enough to rejuice the indices.
First the most critical one.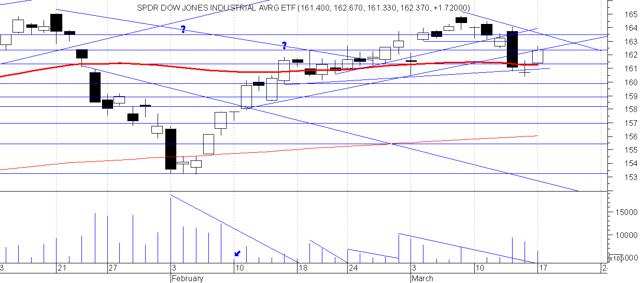 $DIA jumped above the 50 day Moving average and stopped at the 162.40 resistance and the February uptrend. That was below the highs of the day with an unconvincing volume. Much speaks for a sideway market today and possibly a move to a higher trading range (up to 163.50) on the Yellen day. And that would be the day, the $DIA could overcome its March downtrend. Add another confirmation day and we'll have Friday, which has to end on a neutral to positive note too. So a lot of positivity is needed, just to get the $DIA out of a triangle structure.
It's easier for the $SPY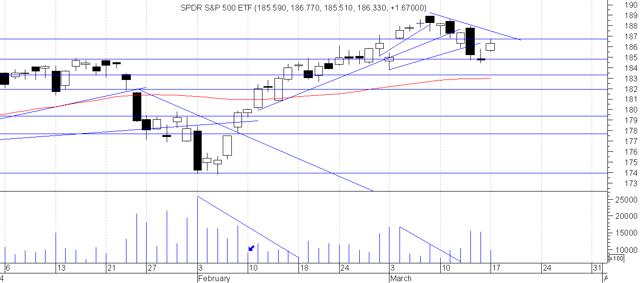 It broke a series of ever growing black candles and jumped from the bottom of the current trading range (and the most important resistance) to its top, but it couldn't master it. Well supported to the downside, just a few days of sideward moves can bring us out of the short term downtrend and that seems perfectly manageable.
And $QQQ is in between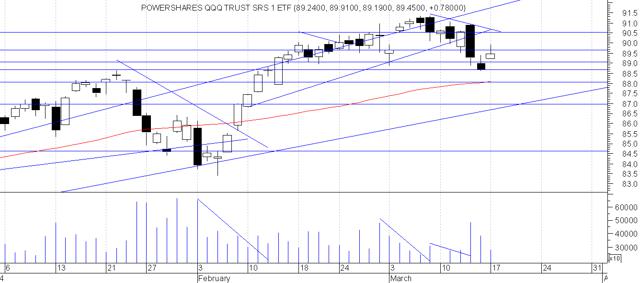 It jumped just one trading zone, after crossing two resistance lines first, but losing one and closing in the lower third of the daily trading range. It has to move to 91 to overcome the short term down trend. Considering yesterday's performance and what Yellen could achieve tomorrow, that seems unlikely.
Yellen - what we expect...
... considering the potential Crimea/China double whammy surely nothing even microscopically hawkish. The explicit job target will be dropped. Maybe the expected $10bn less bond buying will come, but just maybe. Consider her theoretical work, consider that she was consistently more dovish than Bernanke according to anything we know and consider that we've got the first real geopolitical problems since the last crash, she'll do something surprisingly dovish. And she will be creative with that, to set her mark right from the beginning and to make it more difficult to compare her work with what was said before.
What remains
Even after the expected positive surprise, just the $SPY will be out of the woods. The other two still need better earnings get out of the danger zone.
$GLD will go up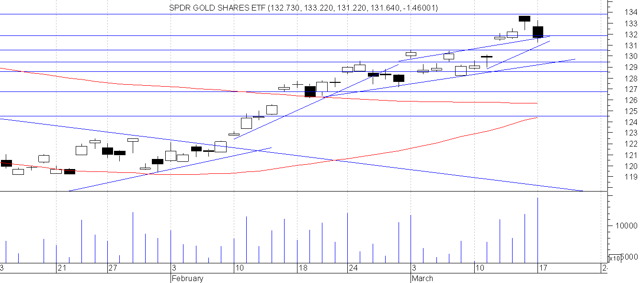 But its performance yesterday and Putin's speech today translate into more downside today. Even 131 (or below) would be no drama, but the right time to add to your position.
And the USD will go down
But neither the $FXE nor the $FXY would profit for more than a few hours or days. Both are engineered, manipulated currencies. Draghi starts intervening, but Abe has not ended. So you have to chose an inverse Dollar ETF or again $GLD.
And Yellen will continue to intervene in the stock markets, inventing her Yellen put thereby.