(My blogging site www.drduru.com/onetwentytwo remains down for the count. I am in the process of changing web hosts. I hope to be back to posting the technical stuff on my own site by this weekend June 29th)
(T2108 measures the percentage of stocks trading above their respective 40-day moving averages [DMAs]. It helps to identify extremes in market sentiment that are highly likely to reverse. To learn more about it, see my T2108 Resource Page. You can follow real-time T2108 commentary on twitter using the #T2108 hashtag. T2108-related trades and other trades are posted on twitter using the #120trade hashtag)
T2108 Status: 28.4%
VIX Status: 16.9
General (Short-term) Trading Call: Sell short-term T2108 trades. Prepare for quick fade opportunities at 50DMA resistance.
Reference Charts (click for view of last 6 months from Stockcharts.com):
S&P 500 or SPY
SDS (ProShares UltraShort S&P500)
U.S. Dollar Index (volatility index)
VIX (volatility index)
VXX (iPath S&P 500 VIX Short-Term Futures ETN)
EWG (iShares MSCI Germany Index Fund)
CAT (Caterpillar)
Commentary
The current #T2108 cycle is working out like a page torn right out the perfect script. Today, the S&P 500 (NYSEARCA:SPY) rallied for a third straight day, gaining 0.6%. I closed out all my ProShares Ultra S&P 500 (NYSEARCA:SSO) calls shortly after the open. I could not have asked for a better setup. My upside target at the 50-day moving average (DMA) was tagged well ahead of schedule. I was expecting the stock market to thrash around for a week before composing itself enough to make a strong run for overhead resistance. The gloom and doom of high rates and China worries seemed so thick and heavy. As I mentioned in the last T2108 Update, the only thing that would have made this T2108 cycle better would have been more aggressive trades and slightly better timing on my last tranche of SSO calls (I sometimes have to execute multiple tranches because calling exact bottoms is of course quite elusive).
(click to enlarge)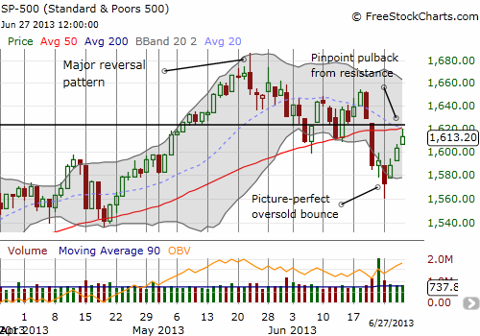 Click to enlarge
If it were not for looming resistance overhead, I would have kept my SSO calls. The current momentum of T2108 is impressive. It soared from 22.4% to 28.4%. In classic form (you have to see it to believe it), the S&P 500 pulled back perfectly from the convergence of a declining 20-day moving average (DMA), the previous bear/bull dividing line around 1623 (I now call it a pivot point), and the still upward sloping 50DMA. This looks like a high hurdle to break. Aggressive traders can fade here with a tight stop above resistance. The only reason I am not fading the S&P 500 here is that T2108 is so low. One steep sell-off could take T2108 right back to oversold territory and put me right back in buying mode. If the S&P 500 manages to CLOSE above this tough resistance, I will also get back into bullish mode. I will treat such a break of resistance as evidence of the bulls winning back momentum from the bears.
I will be holding all my other bullish trades made during this period. The GOOG calls will not work out (I was overly aggressive in buying weeklies expiring this week!), but I am holding onto FFIV and CNX. I closed out my AAPL weekly put spread as part of the Apple Trading Model (ATM). I find it extremely ironic that a bearish bet on AAPL worked so well during a very bullish bounce in the general stock market. I am assuming fund managers are running like crazy to get AAPL shares off the books for quarter-end and made their final exit decisions on Monday when the stock market still looked ugly; once the big wheels start turning they are hard to stop. If so, AAPL should stop selling off as early as tomorrow (Friday, June 28th), maybe even start a sharp relief rally. With Monday representing the beginning of a new month and new quarter, Friday will be primetime to set myself up for a strong beginning of the week for Apple as it tends to do.
(click to enlarge)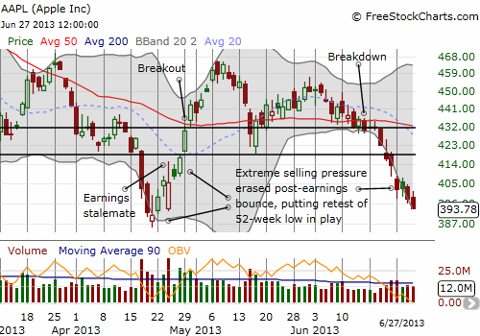 Click to enlarge
Daily T2108 vs the S&P 500
(click to enlarge)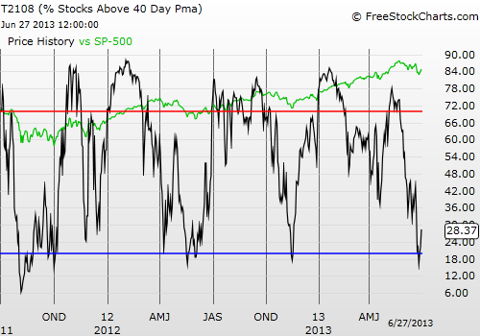 Click to enlarge
Black line: T2108 (measured on the right); Green line: S&P 500 (for comparative purposes)
Weekly T2108
(click to enlarge)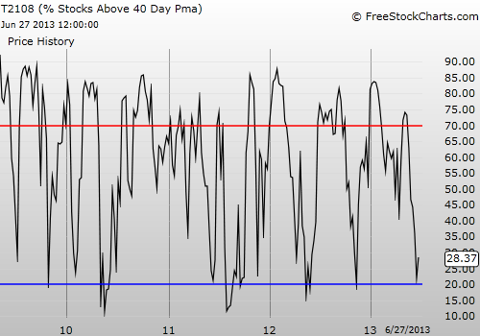 Click to enlarge
*All charts created using freestockcharts.com unless otherwise stated
Related links:
The T2108 Resource Page
Expanded daily chart of T2108 versus the S&P 500
Expanded weekly chart of T2108
Be careful out there!
Full disclosure: long SSO and GOOG calls; net short Australian dollar; long CAT shares
Disclosure: I am long GOOG, CNX, FFIV, AAPL.
Additional disclosure: All longs except AAPL via call options