Flux Power ($FLUX) endured extensive testing for Lithium powered Forklifts - which started in May of 2013 and finally got news of approval in February. Their offering deserves a look in that it is a viable competitor to Plug Power ($PLUG) in the forklift market.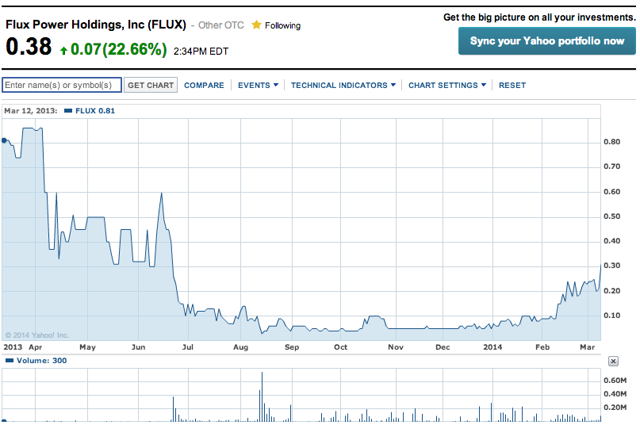 Flux Power Advanced Lithium Battery Packs Approved for Use in Toyota and Raymond Forklifts.
Flux Power® Holdings, Inc. ($FLUX), an innovator in advanced lithium energy storage systems, has received approval to sell its 24 Volt LiFT Pack lithium battery solution for Class III Toyota and Raymond "walkie" lift trucks (forklifts). Toyota is the world's number one selling lift truck manufacturer1, selling under both the Toyota and Raymond brands in the U.S.
Following an extensive testing process, the Flux LiFT-24V battery pack was approved for use in Toyota and Raymond Class III lift trucks, both new trucks and as a replacement option for existing trucks. The Industrial Truck Association (NYSEARCA:ITA) defines Class III "walkies" as electric-motored lift trucks operated by an individual walking behind the vehicle.
Toyota and Raymond are both part of Toyota Material Handling Group North America but operate as separate brands with distinct product lines and distribution channels. This approval enables Flux Power to sell into the vast Toyota and Raymond dealership network across the U.S. Toyota has more than 220 industrial equipment dealerships nationwide, while Raymond's network includes more than 100 locations.
Compared to most lead-acid batteries used in forklifts, Flux LiFT Packs deliver longer run times, superior performance and longer life cycles, require no regular maintenance and provide lower total cost of ownership over the battery's lifetime.
Flux Power CEO, Ron Dutt, commented, "Toyota and Raymond are leaders in researching and commercializing new technologies to improve power and performance in the electric lift truck market. This approval represents a significant step for Flux in achieving industry acceptance and expanding awareness for a battery pack that will benefit customers through lower operational costs and improved fleet efficiencies."
Full Release:
Prior "testing" releases.
Completes first and second round of testing:
Flux Power's New Advanced Lithium Battery Pack Successfully Completes First Commercial Pilot Program Implementations.
"Based on soft-packed, electrolyte-starved LiFePO4 rechargeable pouch cell technology, the LiFT Pack 250Ahe-24V is ideal for large energy storage systems used in the material handling equipment industry. We are pleased that the management of Toyotalift immediately recognized the customer benefits and agreed to be our initial pilot partner.."
Completes third round of testing:
Flux Power's New Advanced Lithium Battery Pack Completes Third Successful Commercial Pilot.
"We often have up to 28 trucks on the road each day, making 20-25 stops for a variety of needs. A typical delivery load can weigh as much as 1,500 pounds and many of our customer sites do not have a loading dock or other convenient access, so our drivers need to park nearby and use pallet jacks to reach the location. Once there, the equipment may need to remain in continuous use for several hours and run at full capacity. As a result, it is critical that our equipment remains fully charged and operable for the entire day," said Ray Lopez, DC Logistics. "Lead-acid batteries installed in our pallet jack equipment must receive a full charge each night in order to meet the often rigorous logistical demands the following day. With the Flux LiFT Pack, our equipment was able to be in use all week, operating at full capacity, even when only a quarter of the charge remained."
Management states not only are they less expensive than fuel-cell, but cheaper even than lead-acid.
A full report with attendant disclaimers can be found on the Alternative Energy Stock Review website.
Disclosure: I am long FLUX.