Now that the elections and the Fed meeting have passed, the market is focusing more on fundamental issues. The next bearish driver for risk assets could be Ireland and Greece-like concerns related to Irish debt. Risk aversion may provide investors a reason to flock back to the "safe haven" of the U.S. dollar (NYSEARCA:UUP) for a time.

According to Bloomberg:

While Ireland has the funds to avert the need for an immediate rescue, its cash may run out in the middle of next year unless it can raise money from the bond market in 2011. Ireland led a surge in the cost of insuring sovereign debt to a record on Nov. 5 as the government struggles to convince investors it won't be the next Greece, whose economy was rescued by the EU and International Monetary Fund in May.
While the long-term fundamentals related to the U.S. dollar (NYSEARCA:UDN) remain bearish, Friday's significant rally in the greenback leaves the door open for a possible countertrend rally. The conditions highlighted below may be cleared in a matter of days, but as of the close on November 5th the dollar remains susceptible to a surprise countertrend rally.
As shown below, a short-term bullish divergence remains in place between price and the dollar's relative strength index. The condition can be cleared if RSI drops over the next few trading sessions. A trendline from December of 2009 is also in a position to lend possible support to the dollar (see blue line).

Click on chart to enlarge.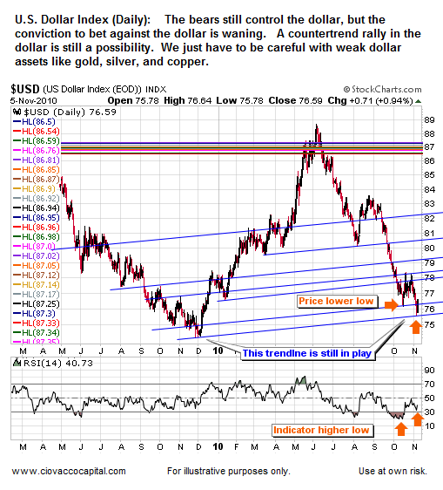 Many believe, including us at CCM, the current rally off the summer lows was sparked mainly by the expectation the Fed would print more money. The chart below shows as the U.S. dollar (red line) began to weaken again in August of 2010, weak dollar assets, like gold (NYSEARCA:GLD) (blue line), began to rally. If the dollar rallies, then weak-dollar assets may consolidate for a time or experience pullbacks. Our concern is correlation risk between the dollar, gold, silver, oil, and copper.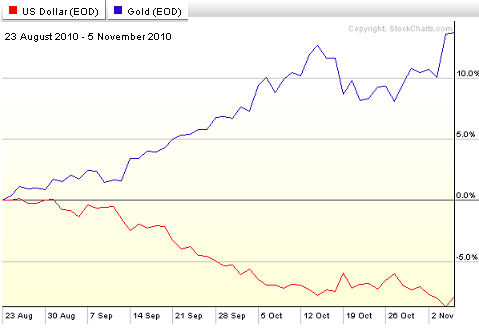 Could the dollar continue to fall? Yes. Could gold, silver, copper (NYSEARCA:JJC), and oil continue to rise? Yes, but we have to decide how much risk we are willing to take in order to seek additional gains.  An expanded version of this article, along with additional charts, can be found here.

Disclosure:
UDN, GLD, JJC