US News & World Report published a ranking of the Top 25 Market Movers of 2009 -- people who "will affect your finances".
Author Kirk Shinkle then compiled a list of "Market Movers Who are Gaining Influence". Rahm Emanuel is number one, and I'm listed as number two.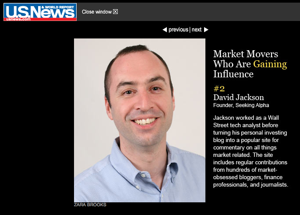 This is actually recognition for the entire Seeking Alpha team. We have about 45 people focused on building the best financial site on the Web. They are talented, dedicated, smart and fun.
Congratulations to the whole Seeking Alpha team!