In yesterday's upgrade to SeekingAlpha.com, we launched a powerful and free business intelligence tool. Type any product or company name in the search box, and you can see what US public companies are saying about it.
Three things make this tool so effective.
Seeking Alpha is the only source of free conference call transcripts for thousands of US public companies. This tool leverages that library.
The search itself is highly accurate and shows the most recent results.
The excerpts on the search results page are themselves informative, and if you click on a link you'll be taken to the transcript, and skipped to the first occurance of the phrase you searched for.
Here's a screenshot of a search for ad cpm, showing the information provided by public companies about CPMs: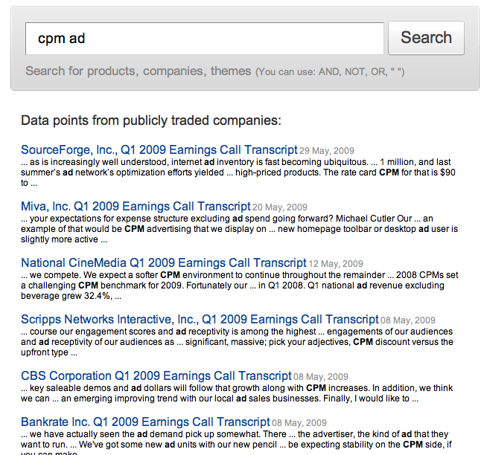 We're interested to see the reaction to this product. Until now, conference call transcripts have been used mainly by professional investors (who have paid dearly for them). Now, the valuable information that companies report will be accessible to the broader business community.