The William Marcy Tweed Foundation announced today that this year's Tweed Prize has been awarded to the Board of Directors of Deutsche Bank's DWS mutual fund complex. The prize, established in memory of New York's late "Boss" Tweed, is given each year to recognize success in tampering with democratic elections, whether through vote-buying, intimidation of opponents, rigged ballot counts, or otherwise. This year's award honors the Directors'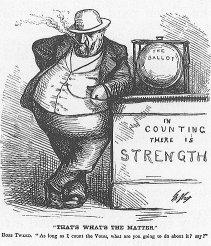 decision to avoid a proxy fight at the DWS Global Commodities closed-end fund (
GCS
) by not holding the annual shareholders' meeting required by company bylaws, state statutes and the SEC.
"It was a tough call," said San Francisco's Abe Reuff, who chaired a panel of judges that included Boston's Jim Curley and Chicago's late mayor Richard Daley Sr.  Afghanistan's Hamid Karzai was a strong contender, noted Reuff, with
1,065,031 fraudulent votes
out of a 5 million total, while the ballot count for Iran's Ahmadinejad was perfectly unbelievable. "But we were most impressed by the simple and direct way the DWS folks avoided losing an election at GCS by not having any election all."  
At the GCS annual meeting the year before, an insurgent slate of Board candidates sponsored by activist hedge fund Western Investment received 6,814,261 votes to only 3,643,328 for the incumbents. However, the fund's bylaws required support from a majority of all 18 million shares outstanding, not just those voting, in order to elect a director. The result, according to the fund's report to its shareholders, was that no one at all was elected, so the incumbents would continue to hold their seats indefinitely.
The activists continued to increase their GCS shareholdings during 2009, undeterred by the Board's "control share" move under state law to dilute the voting power of the added shares. And while the 2008 meeting was held on October 13 of that year following notice and call on September 2, there has been no notice, call or meeting in all of 2009. "We're protecting our shareholders from themselves", said an unnamed source close to the Board. "Just as we did for our SRQ and SRO funds when we insisted on a second vote to liquidate these funds after losing the first vote, because we needed to bury their awful performance records. Besides, we've got an
ethics expert
on the Board, so anything they do must be right."
This was the second Tweed Prize for Directors at a DWS closed-end fund. The earlier win was in 2005, in connection with that year's proxy contest at DWS' New Germany fund (NYSE:
GF
). There GF's Board changed the bylaws so new Directors would need country-specific connections, and then refused to count the votes for Phil Goldstein's insurgent slate of candidates on the ground that they weren't "German" enough. "We learned from that", said the source, "it's much easier just having no election at all."
'Gwailo ("Ballots? We don' need no stinkin' ballots.")    
Disclosure:
Long GCS, SRO, GF