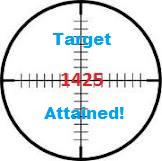 2:55 pm ET: The jobs numbers were disappointing and although you might think it would hurt the market, it's actually having the opposite effect as many believe that this now gives the Fed a good reason to do more quantitative easing. Fed easing is viewed as an ultimately inflationary action which is why precious metals are soaring and the greenback is tanking. But I wouldn't be too quick to jump into the fray and take a short position in the US$ or a long position in precious metals (although it appears that the metals will be rallying no matter what the Fed does or does not do) as the Fed may not do anything. Note that the next FOMC meeting is scheduled for next week with the interest rate decision and policy commentary coming up on Thursday at 12:30pm ET (instead of the usual Wednesday at 2:15pm.)
The VIX is declining a little faster than I would have expected, especially on a rangebound day such as today. What this means is that we could be seeing an end to this bull run sooner rather than later with 1450 still an attainable target on the S&P 500 (SPX). Speaking of targets, at the beginning of this year (January 4th to be exact), I gave a target goal of 1425 on the SPX which was greeted with a skeptical eye by some of my readers. The prediction was based in part on a falling VIX and judging from where it was then (around 22) and where it could go (down to 13), I felt that 1425 was a reasonable price target.
Well, it only took three months for the SPX to gain 145 points (+11%) to close at 1422, only three points shy of 1425. However, it took another five months for the index to finally top it (as well as 1425) which it did yesterday. Yay! Please note that after 1450 I do not have a reason to justify a higher price target (for now). I think we'll need to see how the election plays out, and the closer the margin between Romney and Obama, the higher the market volatility and thus uncertainty. Just my opinion.
Have a great weekend!
Trade Note: Foreign country and currency funds are jumping today on the anticipation of further central bank easing. Breaking out are the following country funds: Brazil (NYSEARCA:BRF), Russia (NYSEARCA:RSX), Emerging Europe (NYSEARCA:GUR), EAFE (NYSEARCA:EFA), Africa (NYSEARCA:AFK), Turkey (NYSE:TKF). Currency fund breakouts include the Loonie (Canadian $) (NYSEARCA:FXC) and the British pound (NYSEARCA:FXB). Some of these funds have options (FXC, FXB, BRF, RSX, GUR, EFA) although most are thinly traded.