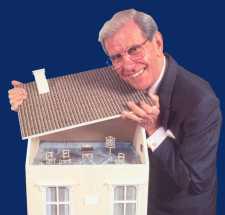 3:45 pm ET: As expected, Germany decided to extend bailout measures in the Eurozone. The move failed to push the major averages (except for the Dow Transports) much higher but what it did do was to stem the rise in the volatility index (VIX). This plus another big move in the transports are providing the bulls with more rally fuel. Now, the only thing that could put the kibosh on this party would be for the Fed to say it will not support further quantitative easing. We'll find out tomorrow morning if that will be the case. (The Fed rate decision will be at 12:15pm ET with Bernanke holding a press conference at 2:15pm ET.) In light of the current weakness in jobs growth, the Street is expecting the Fed's policy to remain accommodative but should the Fed dash expectations, be prepared for a sharp sell-off.
Trade Note: Homebuilders raising the roof
Well, if employment is looking bleak, the housing industry sure isn't. Property values are firming up and buyers are having a harder time finding available inventory. Rising to the occasion are the homebuilders, a group that has been rallying steadily since last October. Here are the names that continue to hit new highs: Beazer (BZT), Pulte (NYSE:PHM), Lennar (NYSE:LEN), Toll (NYSE:TOL), D R Horton (NYSE:DHI), Ryland (NYSE:RYL), M D C (NYSE:MDC), and M/I Homes (NYSE:MHO).
These stocks have come far in less than a year, with most doubling, tripling, and even quadrupling their share value. Does this mean that they've used up all their juice? Hardly, most of these issues are still trading at 50% less than their all-time highs. One nice perk is that most of them pay some sort of a dividend; in the case of Beazer (BZT) the dividend yield is a juicy 6.7%. If you're a long-term investor, you may wish to pick up a couple of these names if you feel your portfolio could use some diversification into the real-estate arena. If you'd like to hold a number of these names but can't afford to purchase them individually, consider springing for the Homebuilders etf (NYSEARCA:XHB) which offers a basket of homebuilding stocks. It, too, pays a dividend of 0.9%.