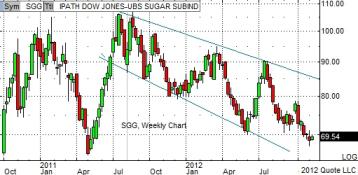 3:15 pm ET: Both volume and price action are subdued today because of the closure of the bond market in observance of Veteran's Day. The good news is that the Dow Transport index (DTX) is leading the other major averages up. Confirming this move is the volatility index (VIX) which has dropped over 9% since the open. Does this portend a turnaround in market direction? Right now, it's too soon to tell but it will take a 40-50 point move to the upside before the S&P 500 (SPX) returns to the Buy zone. Just be aware of that.
Losing more ground (in a manner of speaking) are some of the agricultural etfs. Breaking secondary support levels today are the following soft-commodities etfs: agriculture (NYSEARCA:JJA), corn (NYSEARCA:CORN), and grains (NYSEARCA:GRU). We've been noting the slide in the sugar etf (NYSEARCA:SGG) for the past few months. Some people on a couple of my message boards are thinking that today's positive move could be the start of a rally. Lest you're tempted to jump on it, I'd suggest taking a look at the weekly chart above which clearly shows a confirmed downward trend. I'd wait until the stock breaks its upper channel bound (or at least resistance at $80) before buying.
In other news, oil and gas master limited partnerships (MLPs) and utilities continue to slide. The utilities etf (NYSEARCA:XLU) has lost 10% of its value since its August high. Both MLPs and utilities are income-generating vehicles and their recent sell-off is likely a reflection of the fear of the fiscal cliff (where the tax rate on dividend income would be hiked). This would also explain the current rise in tax-free municipal bond funds.
Some key economic figures are being released this week. Tuesday is a big day with both the Producer Price Index (PPI--a measure of goods on the wholesale level) and retail sales figures (a measure of consumer spending) coming out before the opening bell. On Thursday morning, the consumer price index (CPI--a direct measure of inflation) will be released. All of these numbers will be closely watched by economists.
Note to Subscribers: There are no new entries.