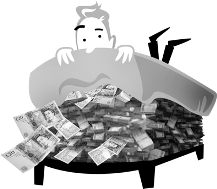 4:00 pm ET: Well, we may not be over the fiscal cliff just yet but the market sure seems to think so. Today's sell-off was as broad as it was ugly. The volatility index (VIX) jumped over 7% but the Trin remained oddly low. This could mean that the sell-off is just starting and the bulls are in for further pain. The fact that today's sell-off was led by the Dow Transports (DTX) lends credence to this thesis.
Another nail in the bulls' coffin is the fact that the levered inverse index tracking stocks broke resistance and are looking to move higher. These instruments can be purchased in retirement accounts (since you're actually going long) but please read up on the pitfalls of leveraged funds first as many times they don't perform as expected over the longer term. My choice would be to buy a long term put (at least 3 months out) on the more heavily traded index tracking stocks such as the QQQ, SPY, or DIA.
The groups hit hardest today were the junior gold miners and the mortgage REITs, or mREITS as they are commonly known. In today's release of the FOMC minutes, the Fed said that it would continue its program of buying mortgage-backed securities which is the reason behind the mREIT sell-off. These issues typically pay a high dividend and many are now trading below their net asset values (NAVs). Should these issues show signs of firming up, I would take the opportunity to buy them, or at least sell a cash-secured put at a lower strike price. (This is a cheaper way of purchasing stock, but only if it's not tanking.)
On the international front, country funds also continued to sell-off. Breaking support levels today were the following: Latin America (NYSEARCA:LATM), Malaysia (NYSEARCA:EWM), BRIC countries (NYSEARCA:EEB), Emerging Europe & Russia (RNE, CEE). Even the so-called "safe haven" vehicles--the greenback and treasuries--were lackluster. I could go on and on about how dismal today's action was but I don't wish to depress you any further. In short, either go short or get yourself a bigger mattress.
Note to Subscribers: There are no new entries.