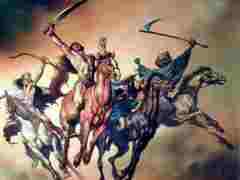 4:00 pm ET: The market took a break from its recent pummeling and despite what you might think that the market is beginning to base, the charts of the major averages are showing inflection points rather than support levels. What this means is that further downside is likely. The question now is, how low can we go?
I can look at the charts and give you support levels but this time I think we should look at political events. There is huge uncertainty surrounding the fiscal cliff and the repercussions of various outcomes, the escalating violence in the Middle East, and the continuing Euro-zone drama (will Greece finally get the boot?). There's only one thing of which I'm fairly certain: volatility will be increasing. And due to the inverse relationship between the market and volatility, as volatility increases, so the market falls. What this means is that you should either exit your long positions or protect them with put options, covered calls, or inverse etfs (but you need to know what you're doing in all of these cases). If you're not experienced in trading options nor know the vicissitudes of inverse etfs, then the sideline is the best place to be.
Worth mentioning is the continued break-down in tech giants Apple (NASDAQ:AAPL) and Google (NASDAQ:GOOG). If you believe today to be a buying opportunity, please revisit my article on the pitfalls of averaging down (scroll down through the article list below) before you click on the Buy button. It's tough to resist the current "sexy" stocks, but look at what has happened to shares of Decker's Outdoor (NASDAQ:DECK), the maker of Ugg boots. In just one year, the stock has gone from a high of $119 to $30--that's a 75% loss, folks!
Even commodities, which you'd think would be doing well right now given the precarious state of world stability, are moving down. Gold and oil sank today with the gold miners losing the most ground. The biggest loser was the junior gold miner etf (NYSEARCA:GDXJ) which shed over 4% and sliced through $22 support. Next stop in this bungee cord jump is a retest of its $18 all-time low (since fund inception two years ago).
High income funds numbered among the day's worst performers with many making new yearly lows. Some of these issues have been in free-fall recently and I'm not exactly sure why--fear of a dividend increase? Fear that fund yields (and many of these are in the double digits) can't be maintained in a recessionary environment? Whatever the reasons are they are likely the same ones prompting the sell-off in high-yielding master limited partnerships (MLPs) and their trust-structured brethren. I don't recommend buying any of these issues right now but the names are worth putting on a watch list for when the market turns around.
I could go on but I know you bulls have already tuned out. Maybe tomorrow's options expiration can give the market a boost.
Trade of the Day (for you options traders): If you haven't done this already, I'm recommending buying puts or put spreads on your favorite index tracking stock such as the SPY, QQQ, or DIA. (The Q's tend to be the cheapest and most liquid.) If you have long stock positions, consider this portfolio insurance; if you just want to risk a few bucks to potentially make a lot, then go for it but don't take too large a position! Go for at-the-money or slightly out-of-the-money strikes that are at least three months out (February or March). With the VIX still below 20, now is a good time to buy.
Note to Subscribers: There is one new Channeling Stock.