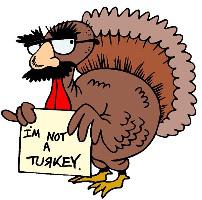 3:35 pm ET: This morning saw a continuation of yesterday's big move up but the rally was quickly extinguished when Fed chairman Ben Bernanke said that they're running out of ammunition to bolster the economy. This is not good news especially in light of the very real possibility that we could go over the fiscal cliff. Wall Street reacted with an immediate sell-off. Fortunately, the major averages quickly found a floor and reversed direction. With a half an hour left in the trading day, we might actually close in the green which would be a nice pre-Thanksgiving gift for the bulls!
Trade of the Day: The Turkey Trade
Black Friday is not only a great day for retailers but it is typically a good day for the stock market as well. Adventurous traders with some mad money may wish to take advantage of this fact. One way to do it would be to buy an at-the-money call or a bull call spread on an index tracking stock such as the SPY, QQQ, or DIA. The position should be closed out just before the end of the trading day on Friday. For this reason, it is important to note that the market will close early (1pm ET) on Friday! This is a fairly speculative trade so please size it accordingly. You just might end up with some extra holiday cash. Gobble, gobble!
Note to Subscribers: There are two new Stock Darlings. Note that the Channeling Stocks list will be cleaned up in the next day or two so if you'd like to keep the current list, please make a copy. (The stocks that are no longer channeling will be cleared.)