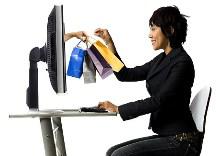 2:15 pm ET: The market continued its holiday rally despite (or in spite of!) markedly lighter volume. The major averages got a mid-morning boost when the Israeli cease fire was announced. With this uncertainty removed, traders have less to worry about which can only help the Black Friday rally, a trade we mentioned yesterday.
Trade of the Day: A buy on Amazon
There hasn't been a lot to write about lately but there has been some interesting action in the retail sector. Retail stocks for the most part have been rallying for the past several days, but few as much as Amazon (NASDAQ:AMZN) which tacked on another 4% to its recent gains. What I believe this is telling us is that investors are expecting online sales to be very good this holiday season. If you wish to jump on this gravy train, now is the time to do so. With volatility so low, options traders may wish to buy at-the-money calls (or even in-the-money calls) on Amazon with strikes a couple of months out. I'm not suggesting you want to hold for that long but I like longer term strikes because they're not as sensitive to theta (time) decay as are their front-month brethren.
Have a happy and healthy Thanksgiving!
Note: The market is closed tomorrow but will re-open Friday for a half-day (until 1pm ET).
Note to Subscribers: There is one new Stock of the Day. (The write-up will appear a little later). Note that the Channeling Stocks and Stock Darlings lists will be cleaned up in the next day or two so if you'd like to keep the current ones, please make copies.