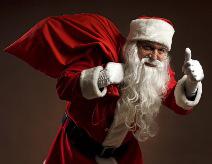 2:00 pm ET: As expected, Black Friday did not disappoint the stock market. We've noted that typically the day after Thanksgiving (and Christmas, too!) is an up day for the market. (Maybe these days being half-days have something to do with it.) The risk-on trade was in full effect with stocks (particularly tech, but more on that later), commodities, foreign funds and currencies all shifting into rally mode. While shareholders cheer the risk-on sentiment, holders of dollars and treasuries are not so happy. The bull dollar etf (NYSEARCA:UUP) broke resistance. The ray of sunshine from this move is that it could indicate a further rally in stocks--has the Santa Claus rally officially begun?
Trade Alert: Mobile phone makers breaking out
Shares of Blackberry maker Research in Motion (RIMM) and Lumia phone maker Nokia (NYSE:NOK)both broke overhead resistance on heavier than normal volume, despite today's decreased trading hours. If the options market is any indication of increasing investor interest, huge volume was seen in the near month/near the money strikes in both stocks. A rally follow-through on Monday would be a buy signal for investors. (Options traders could try to write a cash-secured front month covered put as a stock buying mechanism.)
Note to Subscribers: There are two new Stock Darlings. Note that the Channeling Stocks and Stock Darlings lists will be cleaned up today.