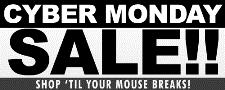 7:40 pm ET: Early morning profit-taking took a bite out of last Friday's post-Thanksgiving rally. But buyers began snapping up shares particularly in the transports (DTX) and in the tech-heavy Nasdaq. Both indexes managed to close the day in the green. The utilities eft (NYSEARCA:XLU) was the best performing sector fund posting a nice +1.3% gain. The past month has been brutal on these issues and let's hope that today's rally is not just due to profit-taking. The XLU is sitting on $34 support and a break through that could put the kibosh on any attempt at a rally.
As just mentioned, investors were bidding up tech issues. Tech bigwigs Apple (NASDAQ:AAPL), Amazon (NASDAQ:AMZN), and Facebook (NASDAQ:FB) all broke resistance on heavier than normal volume. Interestingly, Google (NASDAQ:GOOG) and Yahoo! (NASDAQ:YHOO) chose not to attend the party. (Yahoo! might just be taking time to digest its recent gains.)
It appears that the Santa rally, at least so far, is still intact. There are two issues working in favor of the bulls. The first is the fact that the Dow Transport Index (DTX)--a leading market indicator--has been moving up briskly and steadily. The second is that the volatility index (VIX), while still low, has room to move even lower. The one negative is that the S&P 500 (SPX) is still in the Sell zone but that could easily cross to the Buy side very shortly. At least the bulls have something to ho-ho-ho about.
Note to Subscribers: There is one new Stock Darling.