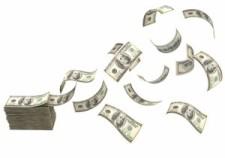 4:00 pm ET: There's not a lot happening in the market despite the fact that today marks the end of the month as well as the date of some index rebalancing. There's been little movement probably because volume has been unusually light. This is likely due to headline risk jitters (and rightly so) concerning the fiscal cliff. This headline risk will likely be plaguing the market for the next several weeks or until Congress can come to some sort of agreement. Today's jump in volatility could be reflecting this uncertainty.
I was hoping that the SPX could move back into the Buy zone but it appears as if all the major averages have lost steam. Taking a break to digest recent gains is certainly not unexpected. Hopefully the indices will be able to get back on the Santa rally track next week.
Trade Note: One way to play special dividends
The prospect of higher taxes on dividends is leading many cash-rich companies to push 2013 dividend payouts into a big one-time so-called "special" dividend payable to shareholders by the end of this year. Although many of these dividends seem enticing, now is not the time to buy the stock just for the dividend capture. The first (and most obvious) reason is that the price you'll be paying for the stock already reflects the expected payout. The second (and not so obvious) reason is that extremely large dividends being offered by small companies could be a sign that it's in trouble. In this case, the special dividend is a way to reward insiders holding the stock with a nice payday at a lower tax rate. If you decide to jump into this type of stock, you could well end up getting burned after dividend distribution.
So, is there a safer way to take advantage of the special dividend? Yes, there is, or I wouldn't be writing about it. One of the best ways is to wait until the ex-dividend date which is the first day that shareholders are allowed to sell their stock and still collect the dividend. Typically, the selling pressure is so intense that it depresses the price to an oversold level making it your chance to pick up a stock that you want to own at a discount. The caveat to this strategy is to make sure that you're buying a company you don't mind holding for a while. An options strategy is to write a cash-secured put before the ex-date at a strike you wouldn't mind paying for the stock. The income you receive from selling the put lowers your cost basis for entry.
Have a wonderful weekend!
Note to Subscribers: There are no new entries and I'm researching a couple Stock of the Day candidates.