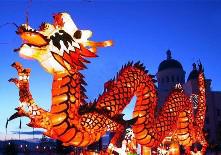 3:45 pm ET: Today's better than expected factory orders and productivity data helped put the ho-ho-ho back into the Santa rally. Combine the fact that the Dow Transport Index (DTX) is leading the advance with a falling VIX and you've got a recipe for a continued move to the upside. However, I was fooled yesterday into thinking we'd have another down day so, really, anything can happen in this light volume market environment where any piece of economic news has market moving potential.
While the bulls may be cheered by today's move up, Apple (NASDAQ:AAPL) shareholders aren't so happy. Earlier, the company announced it's decreasing its parts orders for the iPhone 5. This move indicates a slowdown in production presumably due to a drop in consumer demand. Combine this with the fact that some stock clearing firms are raising margin requirements and you've got the reasons for today's 6% drop. Considering that the stock broke minor support at $550, shareholders may wish to buy some put protection if they don't already have it. Should the stock break semi-major support at $525, I'd recommend buying full protection or taking profits.
On the international front it's worth noting the breakout in several Chinese etfs: FXI, HAO, CAF.It's interesting that $CAF is up 4.2% while the triple-levered bull China etf ($YINN) is up only 3.8%. This shows you the fickle and unpredictable nature of some of these levered funds.
Note to Subscribers: There is one new Stock Darling.