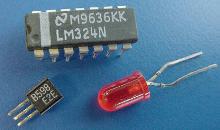 2:10 pm ET: This is going to be a short blog today as I'm going to a CFA (Chartered Financial Analyst) luncheon in a few minutes.
The major averages were able to extend yesterday's rally but at mid-day, they appear to be running out of steam. The DTX has been range bound since May and right now it's trading at the top of its range at 521. What this means is that we can probably expect the market to take a breather over the next day or two but it doesn't necessarily spell the end of the Santa Claus rally. The VIX is low but it can go lower so there's still some fuel to continue the upward movement.
Today's hot sectors are the airlines, health care, aerospace and defense, and semiconductors. In the airline group, Alaska Airlines (NYSE:ALK) and Southwest (NYSE:LUV) are breaking out to new highs. Two semiconductor etfs (SOXX, SMH) are breaking out due to big advances in component issues. Breaking out to new highs today are the following semiconductor companies: Rudolph Tech (NASDAQ:RTEC), Cree (NASDAQ:CREE), Maxim Integrated (NASDAQ:MXIM), Linear Tech (NASDAQ:LLTC), MIPS Technology (NASDAQ:MIPS), Analog Devices (NYSE:ADI). Any of these would make a nice addition to a basket of tech stocks (but do your due diligence first!). The following biotech, pharma, and other healthcare related etfs are popping through resistance: Pharma (NYSEARCA:PJP), Biotech (IBB, BBH), Medical devices (NYSEARCA:IHI), Healthcare (NYSEARCA:XLV). All of these have enjoyed significant run-ups so I'd be wary about jumping in with both feet at this time.
The aerospace and defense etf (NYSEARCA:PPA) is hitting another new high. It appears as if fiscal cliff worries aren't stopping investors from bidding up these issues. Are they guessing that cuts to the defense budget will be minimal or is there something we don't know?