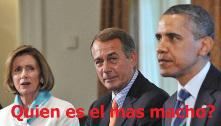 3:45 pm ET: Today's stall in the fiscal cliff negotiations put the brakes on the Santa rally. With fifteen minutes left in the trading day, the major averages are threatening to close in the red--all except the Dow Transports (DTX). If it can manage to keep its head above water, we could see an up day tomorrow assuming, of course, that there's some positive progress on the debt reduction negotiations. A rising VIX is a reflection of increasing negativity among investors that the budget negotiation talks could fail but as we've been seeing over these past few weeks every time the market stalls, Santa has stepped in with good news. Let's keep our fingers crossed he won't let us down.
Despite today's drop, the sell-off didn't do a lot of harm. The industry groups that have been rallying continued to do so today namely airlines, alternative energies (wind, solar, nuclear), and foreign country & currency funds as well as foreign-based banks. Hitting new highs today were the following more notable issues in these groups:
Airlines: Allegiant Travel (AGT), AMR (AAMRQ), Alaska Air (NYSE:ALK), Southwest Air (NYSE:LUV)
Country funds: Poland (NYSEARCA:EPOL), Belgium (NYSEARCA:EWK), Sweden (NYSEARCA:EWD)
Foreign banks: Sumitomo (NYSE:SMFG), Royal Bank of Canada (NYSE:RY), Lloyds (NYSE:LYG), Barclays (NYSE:BCS), BNP Paribas (OTCQX:BNPQY), HSBC (HBC), Bank of Montreal (NYSE:BMO), Bank of Nova Scotia (NYSE:BNS)
Lloyd's (LYG) in particular looks attractive since it's the most beat up; however, it's the only one of the group that does not pay a dividend.
Note to Subscribers: There are four new Stock Darlings.