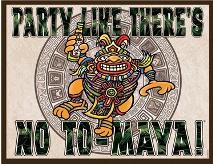 4:00 pm ET: The stall in the budget talks wasn't enough to keep a good Santa rally down (but if they keep it up it most certainly will be). The major averages opened slightly negative but the trusty Dow Transport Index (DTX) was able to lift all boats. The good news is that the DTX continues to show leadership but the bad news is that the VIX is also rising. An advancing VIX is reflecting increasing uncertainty over the fiscal cliff issue and it will only be a matter of time before these worries put a damper on buying pressure. I suspect that some of the recent buying spree is due to year-end window dressing by fund managers which will be completed by year's end. Should the VIX remain elevated, we could easily see a sharp correction come the first trading day of the new year--that is, assuming we make it past tomorrow which is the end of the Mayan calendar.
Although stock action was to the upside for the most part, commodities didn't fare so well. The so-called "soft" agricultural commodities lived up to their appellation. The Corn (NYSEARCA:CORN), Ag (NYSEARCA:JJA), and Grains (NYSEARCA:GRU) exchange traded funds (etfs) all broke support. Precious metals also got hammered with the following etfs violating their support levels: Gold (IAU, GLD), Copper (NYSEARCA:JJC), Precious metals (DBP, WITE), Silver (NYSEARCA:SLV), Goldminers (GDX, GDXJ). Although the gold and gold mining etfs broke support, their bottoming tails indicate that today's breach is oversold. So, if you're thinking of putting on a short trade in any of these gold-related issues, it would be wise to see if there's any follow-through to the downside before initiating a position.
More green shoots? The stock market is indeed indicating that our economy may be recovering at a faster pace than expected. Some strong evidence is coming from strengthening in the financial, housing, and consumer discretionary sectors. Continued improvement in these areas are necessary for a full recovery with the overhanging factor being job growth. This is still the fly in the ointment and is also typically the last one to fall into place. Let's look at some recent stock "tells" that could be signaling further economic growth in the coming months:
1. Increasing housing starts & construction: Homebuilder stocks have been rallying so hard that they've become overextended leading to profit-taking but many issues in the construction arena are still a good buy. In particular, Mastec (NYSE:MTZ), a builder of infrastructure, is still fairly valued and just broke its $24 resistance ceiling today gaining over 4% to a new twelve year high.
2. Consumer confidence can be roughly gauged by how willing Americans are to spend on big discretionary purchases. Certainly, recreational vehicles fit that bill with no stock other than Winnebago (NYSE:WGO) being more representative of this group. Today the stock jumped out of its month and a half consolidation pattern to a new yearly high gaining over 15% on nearly seven times normal volume. The company beat earnings estimates citing very strong RV demand in both its low and high end products. Management says it is looking to hire more workers to fuel the necessary increase in production.
3. Corporations may soon be looking to hire more workers judging from increases in capital spending. Take for example Steelcase (NYSE:SCS), a leader in the manufacturing and selling of workplace furniture (they're a lot more than filing cabinets!). Earlier today, the company reported better than expected numbers citing 3% organic growth in the US during the past year. The news cheered investors so much they pushed the stock up 12% breaking $12 resistance to a new yearly high.
This is just a tip of the iceberg. Of course, if Congress can't get its act together and we do go over the fiscal cliff, then all bets are off. Also, if there's any truth to the Mayan apocalypse theory, then after today we're all toast anyway. We'll see. I'm taking the Scarlett O'Hara approach and am hoping that tomorrow is just another day.
Note to Subscribers: There is one new Stock Darling and one new Stock of the Day.