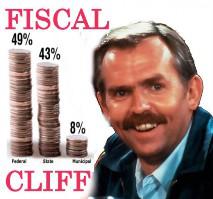 4:00 pm ET: Today's market action began in risk-off mode only to switch back to risk-on when it was learned that Congress will be back in session to hammer out a budget deal before the so-called "fiscal cliff's" tax increases and budget cuts kick in at the beginning of the new year. Today's early morning flight to safety gave a boost to precious metals and treasuries. This increase in nervousness among investors was also reflected by the jump in the volatility index (VIX) to over 20, the bull/bear dividing line. This is the first time in five months the index has breached this level. Fortunately, its advance was halted by the news that Congress would try to come to an agreement over the budget before year's end. For the bulls, the fact that the VIX closed the day below 20 was something to cheer about but I'm betting that the risk-takers who bought long VIX vehicles such as TVIX or UVXY around their session highs are not sharing in the joy. At one point, both of these levered tracking stocks were up a whopping 12% over their closing values--ouch!
The take away from today's market action is what we've been talking about here since Thanksgiving, i.e. the importance of headline news in determining market direction. It appears as if we'll be held hostage to this scenario until a budget deal is reached and let us hope and pray that it is resolved sooner rather than later. My stomach can't take too much more of this!
Trade of the Day: Juicy M&A arbitrage
Diodes (NASDAQ:DIOD), a maker of integrated circuits and circuit devices, offered to acquire BCD Semiconductor (NASDAQ:BCDS) for $8 per ADS (American depository receipt) share in an all cash deal today. The deal has the approval of both boards and is expected to close late in Q1 or early Q2 of next year pending customary shareholder and regulatory approval. Analysts believe that the deal will be immediately accretive to Diodes' earnings but the play here is on BCDS. The stock jumped today on the news, nearly doubling yesterday's closing value. However, share price has been sliding since the open. The stock could have been picked up for as low as $7.26. I was able to snag it at the closing value of $7.35. Assuming the deal is consummated (and there's no reason to think it won't be), I will realize an 8.8% return on investment for an annualized gain of over 30%! It was too sweet a deal not to pass up. (I just hope I'm not missing something important, but I couldn't find anything in the news that suggested an obstacle to the proposed acquisition.)
Note to Subscribers: There is one new Channeling Stock.
Disclosure: I am long BCDS.