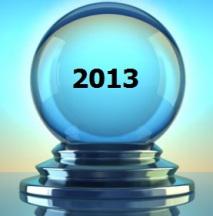 4:00 pm ET: Did anyone expect the last trading day of the year to end with such a bang? Market action was expected to be wild today as no budget deal was reached this weekend (and no one really expected it would be), but I certainly didn't think it would end on such a strong note. Apparently, investors were heartened by today's budget talk advances with strong hopes that a deal will be ratified by the time the ball descends on Times Square tonight. I've always believed that the lawmakers would come through because if they don't, they know that there will be no punched chad before their names come election time.
Year in Review
The risk-on trade was still in effect this year helping to boost the equity market for the fourth year in row. You can see from the following numbers that tech and smaller-cap stocks gained the most compared to the blue chips and the transports:
Nasdaq: +14%
S&P 500 (SPX): +13%
Dow Industrials (DJIA): +7%
Dow Transports (DTX): +6%
It's also worth noting that the first trading day of the New Year has been a strongly positive day for the last four years and unless no budget deal is reached, we could see another strong rally again. Just a heads-up to all you day traders.
Today's notable market action: Vroom, vroom! Stocks and commodities were both trading in the green. Looking at the sectors, consumer discretionary stocks received the most attention, especially those involved with big-ticket items such as home building and autos. Auto and rv makers were the most active with the following issues hitting new highs: General Motors (NYSE:GM), Ford (NYSE:F), Porsche (OTCPK:POAHY), and Winnebago (NYSE:WGO). Winnebago's chart is especially compelling, having just cleared $17 resistance. The stock's pre-crash (and all-time) high was $40 so it still has a lot of room to run should the economy continue to grow.
In commodities, precious metals and especially precious metal miners saw the most positive action. The only weak spots continue to be the agricultural commodities most notably Livestock (NYSEARCA:COW), Cocoa (NYSEARCA:NIB), and Coffee (NYSEARCA:JO). The coffee etf has lost over 60% of its peak value ($80 in 2011) but it appears as if its down trend could be coming to a halt. A break above $35 could be an entry point to begin building a long position.
On the international front, Chinese stocks have been roaring back from their recent lows as the Morgan Stanley China Fund (NYSE:CAF) hit a new yearly high. The stock was up 5% today and 25% since the beginning of December--wow! On the flip side, the Yen (NYSEARCA:FXY) keeps sinking to fresh lows. It broke $115 major support and is looking to test $112.50 minor support. Should it break that (and it's very likely considering the government's stance to keep it low to encourage exports and stimulate business), the next area of support is at $107.50 followed by $105.
New Year's Predictions No stock commentary is complete without making some New Year's predictions, so here are mine: 1. Emerging markets will continue to attract investors but Japan will be the new global hot-spot; 2. Financials will continue to pick up steam; 3. On-line education will gain momentum to become the new hot tech industry in the next several years; 4. Apple TV will not be "all that" (the product is going to have to be stellar to live up to its hype); 5. People will begin to shift away from the virtual reality of social media opting to spend more time in actual reality; 6. Someone will give the GOP a swift kick in the pants and re-purpose it into being a viable political party again.
May 2013 live up to all of your predictions. A happy and safe New Year's to our loyal readers from all of us here at the Stock Market Cook Book!
Note to Subscribers: There are three new Stock Darlings.