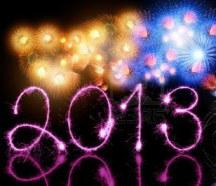 3:30 pm ET: Since 2009, the first trading day of the New Year saw a big rally and today was no exception. Of course, had Congress not reached a last-minute budget agreement, we could have seen an equally dramatic move to the downside. However, since the first order of business for every politician is to get elected or re-elected, our noble leaders were determined not to let the American people down. Who says they don't know what they're doing?
Market action is heavily favoring the bulls with both commodities and stocks soaring. In commodities, the water etfs (FIW, PIO, PHO), timber fund (NYSEARCA:CUT), and agribiz (NYSEARCA:MOO) all reached new yearly highs. Almost all of the sectors advanced with homebuilders (NYSEARCA:XHB), industrials (NYSEARCA:XLI), and aerospace & defense (NYSEARCA:PPA) also touching new highs. One notable laggard was retail. Individual retail issues popped on the open but were unable to hold onto gains with many of them slipping below Monday's close. Negative action on a wildly bullish day shows that even market ebullience can't prop them up. If you're long any retail or apparel names, you may wish to review your holdings and consider taking some profits or protecting your position.
The global shipping fund (NYSEARCA:SEA) broke out of its seven month channel. Although there are a lot of problems with this fund in particular, what this action is reflecting is a growing belief in global growth. Couple that with the new highs made by many foreign funds today (China, Japan, S. Korea, Mexico, emerging markets) and you have further proof of this thesis.
The question is whether or not today's advance is just a one day event or the start of a new rally. Judging from the breakout in the Dow Transport index (DTX) along with the drop in the VIX back to a bullish level, I'd say that we do have the beginning of another leg up. That's the good news. The bad news is that longer term charts of the major averages are showing that we're getting close to areas of major resistance. Fundamentally, the P/E (price/earnings ratio) on the S&P 500 (SPX) is now around 17 which is over its historical average of 15. So, if you're planning on taking long positions, try to focus on undervalued stocks. Financials, especially regional banks, are a good place to start.
Note to Subscribers: There is one new Stock Darling. Please note that the Channeling Stocks and Stock Darling sections will be reviewed and edited this week