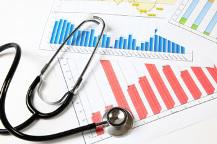 4:00 pm ET: It appears as if the "lather, rinse, repeat" motif was short-lived. The VIX closed below 14 for the third day in a row but instead of the market moving down on the open, it moved up today, bucking the trend. What is bullish is that the Dow Transport Index (DTX)--generally considered a leader in market direction--is moving up. However, it's getting within a whisker of its all-time high that could prove to be either an area of major resistance or the beginning of a new support level. On another potentially bearish note, the volatility index (VIX) is still under 14, a fact that becomes more contrarian every day. As I stated yesterday, the direction of the market going forward hinges on two things: the results of this earnings season and the debt ceiling. Stay tuned for further developments!
There were a couple of hot spots in today's trading. First off, medical device and life science tool makers were on fire. Advancing to new highs, some on much heavier than normal volume, were the following: COV, LIFE, ZMH, PKI, AMRI, CVD, DSCI, ARTC, HOLX, CSII, BIOS, TMO, SYK. Several of these issues helped lift the medical device etf (NYSEARCA:IHI) to a new all-time high. The entire healthcare and pharma space is enjoying great gains, in part due to the greying of the Baby Boomers.
Sharing the rally spotlight is alternative energies where everything except coal advanced. Breaking out of recent bases are the solar etfs (TAN, KWT) and the wind etfs (FAN, PWND). Solar stocks especially enjoyed big gains, many on the order of 6-18% just today! (Canadian Solar (NASDAQ:CSIQ) was the 18% gainer, FYI.) Now may be a good time to start building a long position in this group.
Note to Subscribers: There is one new Stock Darling.