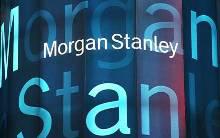 3:50 pm ET: Today's early morning swoon was halted by the news that Congress has decided to kick the debt ceiling can down the road for a few more months. Investors hailed the news as manna from heaven and the collective sigh of relief was reflected in the collapse of the VIX to pre-crash levels. The only thing now that could possibly rain on the bulls' parade would be when the market runs out of buyers. I'm not expecting this to happen soon because of decreasing market valuation due to the increase in earnings (as are being reported). What this means is that the market has more room to run to return to historical norms, i.e. a P/E on the SPX of around 15. I honestly believe that we will be testing the previous high of 1575--and soon!
Today's most notable industry gainer is the investment banks & brokerages. Morgan Stanley (NYSE:MS) trounced revenue estimates in its pre-opening earnings report. The news bolstered the entire group with many making new highs. Today's biggest gainers breaking to fresh highs are the following: Morgan Stanley (MS, +8%), State Street (STT, +6%), Apollo Global Mgmt (APO, +5%), Blackstone Group (BX, +3%). Most of these still sport relatively low P/E's (except for BX) and all pay dividends--STT 's dividends yield a juicy 7.6%!
Have to dash--that's it for now. Have a good weekend!
Note to Subscribers: There is one new Stock Darling and several new Stocks of the Day (to follow shortly).