(click to enlarge)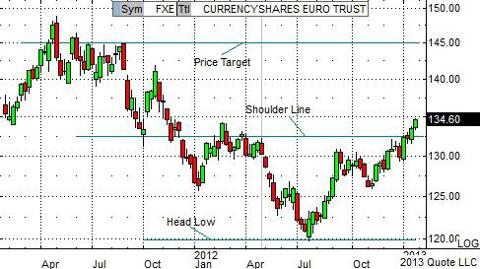 Click to enlarge
3:50 pm ET: For the past several days, we've been noting the cracks in the bulls' house citing a rising VIX and a toppy DTX. It appears that the bears were able to gain a toe-hold and force an opening judging from the roll-over in the Dow Transport Index (DTX). The VIX also began the day over the 14 mark and a close above it would be another sign that the bulls are having trouble holding on. This morning's news that the Fed will be keeping up the status quo (meaning continuation of its current quantitative easing policies) for as long as unemployment remains high didn't do much to shake up the market.
However, I do believe that the market will be taking a well-needed breather for the next few days because of the divergence between the VIX and the Trin. To explain, the Trin gapped down to very bullish levels on today's open while the VIX gapped up. Now, the Trin has no where to go except up in the bearish direction meaning that today appears to be the beginning of a move down. You bulls shouldn't get too worried, though, as no market moves up in a straight line (unless it's being manipulated).
Trade of the Day: The Euro is bucking up!
You heard it here, folks, go long the euro! If you don't know anything about trading the currency market, don't worry. You can buy the Euro exchange-traded note, the FXE, as a proxy. Fundamentally, there really is no way to ascribe an intrinsic value to one currency as they are all valued relative to each other, and the currency ETNs are no exceptions. The one difference between them and Forex currency pairs (e.g., dollar/yen, etc.) is that they are valued against a basket of currencies instead of just one. In this way, then, the ETNs (Exchange Traded Notes) can be compared with one another, say the FXE with the UUP (the long dollar fund).
Okay, enough instruction. If you're a technician, you can see by the above chart that the FXE has broken out of an inverse head and shoulders pattern and is moving up. Using $132.50 as the shoulder line with $120 as the bottom of the head, we have $142.50 as an approximate target. [The target price is the difference in value between the top of the head (or in this case, the bottom of the head) and the shoulder line added onto the shoulder value: ($142.50 - $120) + $142.50.] The option field on the FXE is reasonably liquid for near-the-money strikes so a long-term bull strategy could be a viable return/risk investment.
Note to Subscribers: There are no new entries.