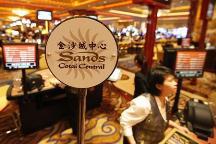 4:45 pm ET: As predicted, the market took a much needed breather, but considering January's historical gains it's no wonder the major averages are feeling a bit tired. For the record, the advances were impressive: the tech-heavy Nasdaq +2%, the large-cap S&P 500 5%, the blue-chip Dow Jones Industrial average +6%, and the small-cap Russell 2000 +6%. But you know what? These numbers can't hold a candle to the gain in the Dow Transports which saw a whopping 9% return. Can you see why the Transports are considered a leader in market direction? There's a saying on Wall Street: So goes January, so goes the rest of the year. Well, if this January is any indication, the market is poised to rally further. As I mentioned previously, I'm expecting the S&P to test the 1550-1575 level which represents a 3-5% advance above its current level. Scaling into long index positions on market dips would be a prudent investing strategy until the market shows us that it's run out of rocket fuel.
Trade of the Day: Investors betting on Macau
Las Vegas Sands (NYSE:LVS) reported earnings last night and although it missed its earnings estimate, it handily beat on every other number sending its share price up 7% today. Revenues from Macau gaming tables accounted for the vast majority of revenues and 2013 revenues are expected to increase due to the addition of 200 new gaming tables. The company also announced a 40% increase in its quarterly dividend from 25 cents to 35 cents giving a 2.5% yield at current levels.
Wynn Resorts (NASDAQ:WYNN) just reported earnings. Fourth quarter evenues came in nearly 10% lower than last year's mostly due to a drop in its VIP traffic. For Wynn, this is significant as the $28 billion it earns from its VIP segment dwarfs the $700 million from its mass market segment. Wynn also upped its quarterly dividend, doubling it to $1 per share (3.2% yield). Like LVS, Wynn shares broke out to a new high today, gaining 4%, but because of its rather downbeat earnings report, the stock is trading slightly off its closing price in the after hours session.
Today's action in these two stocks was reflected in the Gaming etf (NYSEARCA:BJK) which broke to a new high. Both Wynn and Las Vegas Sands are major components of this fund which is heavily weighted in companies doing business in Macau--a good thing, at least for now. The fund yields a respectable 3.6% which is sure to rise once the increase in WYNN's and LVS's dividends are included. The trading volume on this fund is low (45k average daily volume), so please use limit orders when trading to take the bite out of a potentially large bid/ask spread. As long as the Chinese keep bellying up to the gaming tables, Macau casinos should continue to beat the house.
Note to Subscribers: There is one new Channeling Stock.