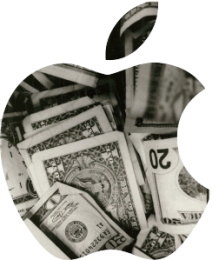 4:00 pm ET: The bears tried to move in this morning but the bulls charged right back. Today's session just ended with the major averages still in the red except for the Dow Transports (DTX). The fact this was able to hang in there along with the VIX retreating back under 13 was a coup for the bulls who live to rule at least for another day. Tomorrow morning's jobs report could either fuel the bulls or feed the bears, and whichever way the jobs report goes, so goes the market, I do believe.
Today's Most Notable Market Action: Apple (NASDAQ:AAPL) shares shot up as company management says it's considering hedge fund manager and major Apple shareholder David Einhorn's "request" that the company return some of its diamond-as-big-as-the-Ritz cash pile to shareholders. This is certainly a question that many have been asking especially as Apple management has said in the past that they have no definitive plans to use it. Anyway, the news, coming about a half an hour before the closing bell, lit a fire under the stock. This late-day movement accounted for pretty much all of its 3% gain, enough to propel it out of its recent trading range. Looking at its chart, there's a gap it needs to fill between $465 and $485, and if investor enthusiasm continues, it could easily accomplish that. Twenty points sounds like a lot of ground to cover but when a stock is trading at $468 (today's closing price), that's less than a 4% move--easy, peasy.
Fun Factoids about Apple
1. Apple generates about $1 million PER HOUR on iTunes sales. (BTW, haven't people heard of Pandora (NYSE:P), Songza, and Jango? These are all free music services.)
2. Apple is sitting on $137 BILLION in cash. With roughly 939 million outstanding shares, this means that each share has a cash component of $145. So, if you need to know where the floor is on the stock, this is it.
Note to Subscribers: There is one new Channeling Stock and one new Stock Darling.