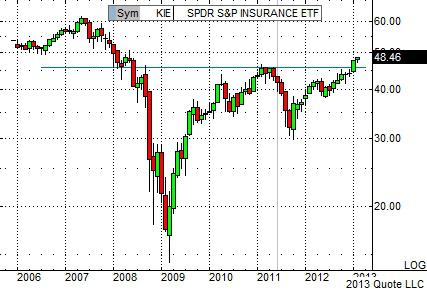 4:00 pm ET: The bulls are firmly back in the drivers seat and it's going to take a pretty big crowbar to pry them loose. Both the small-cap Russell 2000 (RUT) and the Dow Transports (DTX) continue to plow into new high territory. I still believe that the S&P 500 (SPX) will test its previous two highs (2000 & 2007) and there's no technical reason to suggest otherwise. Of course, geopolitical events could upset the apple cart and so as always it's prudent to have an exit strategy in place.
Today's Market Focus: Is it time to buy insurance?
It's been no secret here that insurance companies have been staging a comeback ever since their near demise during the global financial crisis in 2007. Although they've regained quite a bit of their pre-crisis values, they still have a ways to go. Currently, the P/E (price to earnings ratio) of the insurance industry group stands at 11.7 (according to Yahoo! finance). The Insurance Spider (NYSEARCA:KIE) is an exchange-traded fund representing a basket of insurance companies. Shown in the monthly chart above, you can see the stock recently broke through $47.50 resistance and is moving on to likely test its $62 high. The stock pays a dividend currently yielding 1.8% and sports a modest P/E of 10, a value slightly under the industry average of 11.7.
Obviously, individual insurance names are also doing well. Those with P/E's lower than the industry average may offer extra value to the investor. With that consideration in mind, the names that are breaking into new high territory today are the following:
Arch Capital (ACGL, $49): P/E = 9.5 Dividend Yield = 0
Aspen Insurance (AHL, $35): P/E = 9.6, Dividend Yield = 1.9%
Alleghany (Y, $376): P/E = 6.5, Dividend Yield = 0
Primerica (PRI, $34): P/E = 12.6, Dividend Yield = 1.1%
Okay, so Primerica's P/E is slightly over the industry average but the stock jumped today on account of a surge in sales as well as being added to the S&P 500. Also, take into account that the insurance industry's P/E of 11.7 is still well-below that of 17.3 on the S&P 500. If you're interested in adding some insurance stocks to your portfolio, I would consider looking at each of these in the order listed. Yes, my assessment is based purely on technicals and in my opinion the chart of Arch Capital is the clear winner. In fact, it's been such a juggernaut that it's been on our Stock Darlings list since last October 1st. (For more info, please checkout our Subscriber Services.) Since then, the share price has appreciated by over 15%! Arch just announced that it is expanding its business by moving into the mortgage guaranty space where it feels it can profit from the rebound in the housing market. To me, this is Icing on the cake.
Best wishes go out to you of all on the East Coast. Hope you've hunkered down and can take some time to enjoy the winter wonderland! Don't forget to toss out some left-overs to our feathered and furry friends who may suffer a temporary disruption in their food sources.