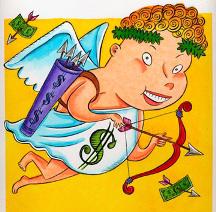 3:00 pm ET: The market is still managing to melt up, little by little, despite previous attempts at rolling over. The Dow Transport Index (DTX) still won't take a break and we'll likely not see a pull-back until it does. Market internals are all bullish in spite of negative news from the Eurozone indicating systemic contraction. Many market pundits believe the Euro malaise will spread to our shores and it's only a matter of minutes before we begin to feel their pain. Actually, the time frame is more like a couple of weeks when sequestration begins. I believe that time frame is entirely plausible given that it could take that long for the S&P 500 (SPX) to retest its previous two highs in the 1550 - 1575 range. Once it does that, then all bets are off as to which direction it will proceed. The view right now is that down will be the more likely direction.
Notable market action: Drilling for profit in oil services stocks
Oil service and equipment stocks (think drillers) have been on a roll. Today, four oil services and equipment etfs hit new highs: SPDR S&P Oil & Gas Equipment & Services (NYSEARCA:XES), Market Vectors Oil Services (NYSEARCA:OIH), IShares Dow Jones US Oil Equipment (NYSEARCA:IEZ), and Powershares Dynamic Oil & Gas Services (NYSEARCA:PXJ). All jumped by 3%--a gigantic move for these issues. The moves reflect the rallies in their constituent components, most notably Schlumberger (SLB, +4%) and Halliburton (HAL, +7%). The charts of all of these issues suggest there's a lot more upside in the offing and if the opinions of energy experts are to be taken at face value, we can expect the price of oil to continue to rise into summer.
We've noted that the market may be due for a correction but that shouldn't hurt energy as its price is independent of the stock market. (For one thing oil prices can't be manipulated by the Fed). Now is the time to move into this group and I'd recommend doing your due diligence before deciding on which stocks or etfs to purchase. Each one of the above mentioned funds are based on different underlying indexes, so be careful! For example, the XES invests in a broadly diversified basket of stocks where no individual component comprises more than 3% of the fund. On the other hand, the OIH and the IEZ are both heavily weighted in Schlumberger (NYSE:SLB) and Halliburton (NYSE:HAL). For the OIH, these two stocks comprise a whopping 30% of the fund's holdings and in the case of the IEZ, they make up 25%. All of these etfs pay a dividend, albeit a small one. (The OIH has the highest yield of 0.9%.) The OIH is by far the most heavily traded at over 4M shares per day. It also has a very liquid options field making it a good candidate for a cash-secured put entry and a follow-on covered call strategy.
Have a happy Valentine's Day--no calorie counting!