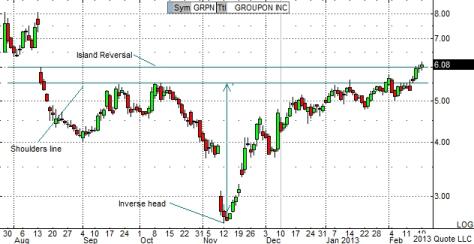 4:00 pm ET: The market is firing on all cylinders and the bulls are firmly in the drivers seat. The Dow Transports continue to lead the market and as long as the VIX stays low, it's clear sailing for a while. Enjoy this good market weather while it lasts!
Trade of the Day: Is Groupon the Deal of the Day?
As my subscribers know, we've been bearish on online discount retailer Groupon (NASDAQ:GRPN) since it was recommended as a short on April 12, 2012. At the time, the stock was $15.28. It proceeded to sink until it hit bottom on November 13th at a price of $2.63&a drop of 87%! Since then, the stock has been clawing its way back to just under $6 and if it can manage to close over that level, further upside is likely.
Why am I switching my stance? For two reasons, but first a little background. The stock was recommended as a short because of the high expectations in the minds of investors and, more importantly, the business model's low barrier to entry. While other web entities such as Living Social and Amazon's Daily Deals have been going head-to-head with Groupon, the fact that Groupon has been able to not only hang in there but attract new users (including yours truly) is worth noting.
An increasingly loyal user base is being reflected in the company's firming fundamentals: EPS and sales are both rising and the company expects earnings to rise by 41% next year before leveling off. Apparently, an analyst at Stern Agee agrees with management's rosy prognostications and upgraded it to a Buy with a $9 per share price target.
The technicals are also very compelling. Take a look at the above chart and if you're a chartist, you'll notice the completed inverse head-and-shoulders pattern along with a nearly completed island reversal. For the reversal to be complete, the stock price not only needs to jump over the $6 mark but close over it, too. If that happens, then we'd have two powerfully bullish technical indicators bolstering the long side.
Analysis of the head-and-shoulders pattern gives an expected minimum price target of $8.40. If it bests that, look for resistance at the $9 and especially the $10 levels.
There are a couple of caveats to this trade. The first is that I wouldn't even think about taking a long position until the stock closes above $6 as mentioned above. The second is that the company reports earnings next week on February 27th after the bell. Disappointing numbers could tank the stock and conservative investors may wish to wait until after that date before taking a position. However, I'm thinking that the company may well beat the numbers in which case the stock could jump. If you're a gambler and are familiar with options, taking a small long position (such as a call spread) could be a profitable play with limited downside. Also, folks wishing to buy the stock at a discount could sell cash-secured puts. (The March 5.5 put is going for 37 cents.) The good thing about Groupon options is that they are fairly liquid.