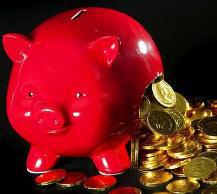 3:45 pm ET: Well, yesterday's prediction turned out to be half right and half wrong. The market did rally on the open yet it was only the Dow Transport Index (DTX) that was unable to keep the ball rolling...but it appears as if it, too, is beginning to pick up some steam going into the close. Volatility continues to fall and the Trin has moved out of contrarian territory meaning that further upside is in the cards--providing the unemployment rate doesn't come in and stink up the joint tomorrow morning.
Trade of the Day: Banking on Banks
With the Fed's printing presses still operating in overdrive, much of this money is going directly to banks which is fattening up their coffers. The financials as a whole have under-performed the rest of the market but that situation has been changing as investors look for value. The banks as a group sport a collective P/E of 12--that's 25% below the historical P/E of the S&P 500. All of this free cash means that banks will be looking to do something with it. Sure, making loans is one way to distribute it, but they may also use a portion to add share value via such mechanisms as stock buy-backs and dividend increases.
You can play the expected rise in share price by literally throwing a dart at a board of bank names or you can buy a basket of them via bank etfs. Two regional bank etfs (IAT, $26) & (KRE, $31)broke out to new multi-year highs today on heavier than normal volume as did the bank etf (KBE, $27). All three of these pay a dividend just under 2% and all are optionable. A covered call strategy on any of these etfs could be a nice way to profit from the expected price appreciation in this group.