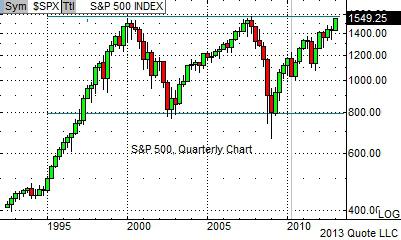 3:15 pm ET: Today's unemployment figures were much better than expected but this good news was tempered by a downgrade in Italian debt. While economic figures here point to growth, it doesn't appear to be the case in Europe which is still trying to recover from its own financial crises.
Many financial pundits are now predicting an explosive bull market but there's one big technical hurdle that needs to be cleared first. You can see from the quarterly chart of the S&P 500 (SPX) above that we're on the verge of testing a double top. This chart pattern is viewed by technicians as a major event. If the stock is able to break above the previous two highs, this will open the gate for a bullish stampede. However, should the opposite happen, we could very well see a decline back to the 800 level, opening up the gate for a bearish stampede. We should know one way or another soon, possibly even within a week. You can't say that we're not living in exciting times!
That's it for now. Must dash to a meeting. Have a good weekend and don't forget to turn your clocks forward this Saturday night!
Subscriber Notes: There's one new Stock Darling. Write-up to follow later.