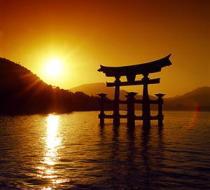 4:00 pm ET: Just when you think the market internals can't get any more bullish, the volatility index (VIX) dives to its lowest level in six years. This is good news for the bulls, at least for the near-term. Despite the fact the VIX is now under 12, it still has a ways to go to test its all-time low at 10. I do believe it could easily reach this level if and when the S&P 500 (SPX) tests its all-time high at 1576. Right now the SPX is only 22 points away from doing just that. Judging from the average velocity of this rally (2.6 pts/day since the Nov. 16th low of 1360) we could see the SPX reach this level in 8 - 10 trading days. Till then at least, the bulls can keep their party hats on.
Trading Note: Bank stocks on the move in the land of the Rising Sun
Japan's recently elected Prime Minister Abe is vowing to keep his promise of stimulating his country's moribund economy via mechanisms such as expanding the money supply and putting downward pressure on the yen. The move appears to be working as Japanese stocks are heating up. Today, Japanese bank stocks were lighting up the leader board: Mitsubishi (MTU, $5.97, +5.7%) and Sumitomo (SMFG, $8.68, +5.6%) lead the way as they broke out to new yearly highs. The other major player in this group (that trades as an ADR here in the US) is Mizuho (MFG, $4.55, +4.8%) which is close to testing its recent high. All of these stocks are 60-70% below their 2006 peaks so they've got lots of room to run. As long as the government sticks to its current expansionary policies, banking coffers via increased deposits and loan activity should continue to swell. All of these stocks sport low P/E's (MTU +12, SMFG +8, MFG +8) and all pay dividends in the 2-3% range. They all offer options but they are thinly traded. Hey, with the current share price so low, why even bother?
Subscriber Notes: There's one new Stock Darling.