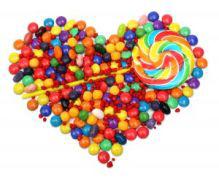 4:00 pm ET: Well, it certainly appears that the market is indeed consolidating and judging from the rise in the VIX along with a relatively low Trin, we're likely to be in for more downside. But it's not time for the bears to start partying as internals are still bullishly biased. There are plenty of stocks that are advancing as both bond and sector rotation continue. You frisky bears can feel free to take a few small short positions but you'd better watch them like a hawk and be prepared to exit on a moment's notice. I still think the S & P 500 (SPX) will make another run towards its all-time high of 1576 before the "sell in May and go away" mentality kicks in.
Trade Note: Sweet talkin'
Shares of Tootsie Roll (NYSE:TR), Hershey's (NYSE:HSY), and J&J Snack Foods (NASDAQ:JJSF) got a sugar rush today as investors bid them up to new yearly highs (all-time highs for Hershey's and J&J Snacks). It's interesting to note that while many Americans are trying to slim down, the stock of snack food makers are rallying. I'm not quite sure what this means but the charts on all of these are bullish. The only major technical hurdle appears in the chart of Tootsie Roll. It's closing in on $30 which is an area of major resistance. However, should it manage to hurdle that (and I think it will), I'd expect it to continue rising to $40 at least. Both HSY and JJSF pay dividends yielding around 1%; the yield on HSY is close to 2% and it's the only one of the bunch that has options. The near-the-money strikes are quite liquid making it a good candidate for a covered call strategy.
Subscriber Notes: There is one new Stock Darling.