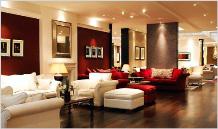 4:00 pm ET: It appears as if the Street was expecting a bit of bearish bias in today's Fed commentary but the fact that it didn't get it sent the major averages mildly higher. All of the major indices with the exception of the market-leading Dow Transport Index (DTX) appear to be on track to close in the green. That sounds good but the fact that the DTX isn't following suit could mean that more consolidation is in order. The precipitous drop in the VIX (volatility index) is saying that investors are figuring that the Cyprus headache is under control, at least for the time being. With many sectors still gaining traction, it appears as if the bulls are preparing for another rally starting very soon. I do think that if the market turns lower tomorrow, this could be one of the last "buy the dip" opportunities for a while.
Trade Notes: Build your portfolio with housing stocks
It's just insane how bullish anything related to housing is right now--home builders, home building suppliers, home furnishings, lumber, and even the transports to haul all of this stuff. Seriously folks, you need to put some home-related issues into your portfolio right now especially considering that housing is starting to heat up. I can't tell you which ones to buy but here's a sampling of stocks breaking out to new highs today (and all of these are definitely worth closer scrutiny):
Homebuilders: Standard Pacific (SPF, $9), D R Horton (DHI, $25), KB Home (KBH, $22), Lennar (LEN, $43)
Building Products: AAON (AAON, $27), Fortune Brands (FBHS, $38), Lennox Int'l (LII, $65), Masco (MAS, $21), PGT Inc (PGTI, $8)
Home Furnishings: Ethan Allen (ETH, $32), Leggett & Platt (LEG, $33), Williams-Sonoma (WSM, $50)
Earlier, Williams-Sonoma (NYSE:WSM) reported better than expected Q4 earnings and raised its dividend, causing its stock to break out of a seven month trading range. It shot up 10% on seven times normal volume. This appears to be the beginning of another leg up in its rally but you may want to wait a couple of days for today's gains to consolidate before entering into a position. If you don't have the time nor the energy to select individual issues, you may wish to consider buying the homebuilder etf (XHB, $31) which also broke out to a new high today. Many of the above issues pay a dividend, albeit small ones. (The largest is Legget & Platt with a yield of 3.5%.)
Subscriber Notes: There is one new Stock of the Day.