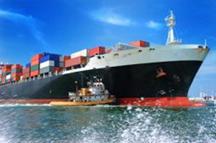 4:00 pm ET: Yesterday, we noted that the negative divergence between the Dow Transports (DTX) and the other major averages signaled the probability of further decline and the augur didn't let us down. Today's slump is actually good for the market. The internals are mildly bearish and we could see more downside tomorrow. It's very possible that the DTX could retrace to the 598 support level before turning around. We'll know soon enough!
Today's Trade: Shippers on the move
One of today's market movers was the shipping industry. Big gains were seen pretty much across the board with the following names breaking out to new highs: Diana Shipping (DSX, $9.60), Global Ship Leasing (GSL, $4.20), and Navios Maritime (NM, $4.50). All of these issues rallied 4%-5% on twice normal volume, but that was nothing compared to Overseas Shipping (OSGIQ, $3.30) which jumped over 50% on ten times normal volume to fill the gap created last October.
The reason for today's mega-move was the direct result of a shipping conference being held in New York. From Thompson-Reuters:
"Analysts attending the Capital Link shipping conference in New York said there was "a very positive talk" on product tankers. Demand for these ships, which transport oil from refineries to consuming markets, is expected to rise, an analyst said. This is lifting the shares of crude oil and dry bulk transporters, he said. Moreover, investors at the conference think rates might be near the bottom as fleet growth slows, another analyst said."
These are certainly positive comments and it's no wonder that investors were piling into the stocks today. This is one transport group that is not even close to being over-extended and I think adding one or two of these issues to a portfolio would be a prudent move. For those of you who prefer investing in a basket of stocks, check out the Shipping etf (SEA, $17.56). One nice feature of this fund is that it pays a dividend which is currently yielding 3%.
Subscriber Notes: There is one new Stock Darling.