4:00 pm ET: Although the major averages are ending the week on a positive note, they're still down overall from last week. The good news is that the Transports (DTX) are on the rise clearing the way for the next leg up in the rally. The VIX is still in the bullish zone albeit elevated from its previous low. This is actually good news because it gives the upcoming rally room to run--sort of like letting out a notch in a belt to make room for that Thanksgiving turkey dinner. Of course, all bets are off should we receive more negative surprises from the Eurozone (or elsewhere) over the weekend.
Follow up to yesterday's trade: Shippers continue their ascent
It sure looks as if the oil tankers and marine dry shippers are heck-bent on rallying after yesterday's positive forecast coming from the shippers themselves at yesterday's analyst conference. The Shipping etf (SEA, $17.70) rallied enough today to break out of a two month base. Note that the stock faces major resistance at $18; a move above that would be very bullish.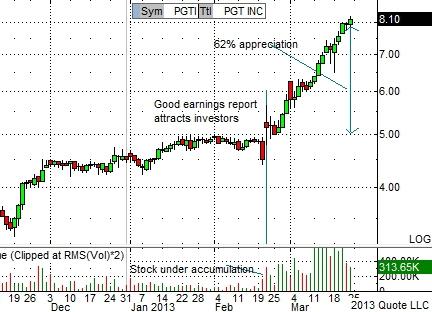 Trade Talk: A small stock under heavy accumulation
A rising cumulative increase in daily stock volume means that the company has piqued the attention of major institutions signaling continued money flow into the issue. One stock that has been gaining traction on a heavy increase in volume is PGT Inc (PGTI, $8.10). This company makes residential impact-resistant windows and doors. On February 21st, the company reported better than expected revenues and earnings. The above chart shows that it was just this news that aroused institutional interest. Since then, the stock has gone on to gain 62%. Volume still appears to be strong and with expected growth in the housing industry, we could see more upside. However, the stock is trading at a fairly rich P/E but if earnings continue to grow, that shouldn't be a deal-breaker. The bigger problem is that the stock has risen so far so fast and a period of much-needed consolidation could well be in the cards. No matter, investors may wish to keep an eye on this issue and perhaps begin building a position.
Next week we'll look at another stock garnering the eye of Wall Street.