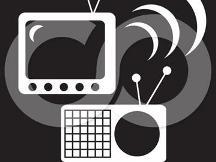 4:00 pm ET: Oh dear, it appears as if the "Sell in May" scenario may play out sooner than expected. While the market is still with the bulls, the internals are showing that the bears are growing increasingly restless. Today's rise in the VIX (volatility) is being supported by the Trin, and the VWAPS (a measure of institutional trading) is showing a marked increase in selling pressure. The big tech names--Priceline (NASDAQ:PCLN), Google (NASDAQ:GOOG), and Apple (NASDAQ:AAPL)--were the day's biggest losers as the Technology etf (NYSEARCA:XLK)closed in on $30 support. A break below that could spell the beginning of the end of this rally.
Today's trading highlights & lowlights
The sun may be setting on solar as two Solar etfs (KWT & TAN) both pierced resistance levels. This energy group (sometimes classified as a subset of the semiconductor space) has been fizzling out for a while and today's action only served to increase downward momentum.
The good news is that gains were seen in a few industry groups.
The first is in the consumer staples sector where food manufacturers (which is really what most of them are, sadly) and retailers worked to extend recent rallies. Some issues are getting long in the tooth but shares of Post (POST, $43) and Ingredion (INGR, $71) continue to press higher.
Real-estate also continues to attract investor attention. Many of the names in this group are structured as REITs (real-estate investment trusts) and as such they pay dividends. My favorite three names making the new highs list based on chart technicals are Franklin Street Properties (FSP, $15), Medical Properties (MPW, $16), and Ramco-Gershenson Properties (RPT, $17). They all have dividends yielding in the 4-5% range.
The last group getting bid up are small media names. Scripps (SSP, $12), LiveNation (LYV, $12), Nexstar (NXST, $18), Sinclair Broadcasting (SBGI, $19), and Navarre (NAVR, $2) all broke recent resistance to hit new yearly highs. Two of today's biggest gainers were Navarre and Entravision both of which rallied nearly 9%. Entravision (EVC, $3), a Spanish radio and TV broadcaster, has been soaring since its recent earnings announcement. It trounced analysts' estimates by solidly beating on both the top and bottom lines. Since then, volume has been exploding as Wall Street takes notice. However, I'm not sure how much longer this momentum can be sustained and I'm thinking that part of its rally could be fueled by take-over expectations. If you do wish to take a long position (after doing your due diligence), I'd start small and build from there--just in case.
Subscriber Notes: There is one new Stock Darling.