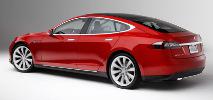 4:00 pm ET: The major averages took some time off today following the Easter holiday. Some mixed economic news probably didn't help the cause as manufacturing numbers came in worse than expected while construction figures were better than expected. More sabre rattling out of North Korea probably had little to no impact on the market as one would expect gold and other precious metals to shoot up if anyone was taking their threats seriously. Market internals are still in the bulls' camp although today's rise in the Trin (Arms Index) could signal further downside on the open tomorrow. Apart from global headline risk, the only thing with market-moving potential this week is Friday's employment report. A slide in that number could be bad news for the market.
Stock of the Day: Tesla Motors on the move
Electric car maker Tesla Motors (NASDAQ:TSLA) zoomed out of the starting gate this morning after reporting its first quarterly profit ever. The stock popped nearly 12% on the open, easily hurtling the $40 level which was an area of major resistance. The stock finished the day up nearly 16% on ten times normal volume. Option trading was also heavy especially on the call side and it's no wonder as short interest represents 65% of the float. (Buying calls is a way to hedge a short position.) This move in the stock represents a new high and if the company's sales projections are met, then the stock will certainly go higher.
With improving distances between charges and the roll-out of new charging stations, the company's sales projections may even be conservative. It recently was awarded Motor Trend's Car of the Year as well as being named the World Green Car of the Year. The company is only starting to expand globally and once consumers are educated on the car, demand could easily increase. Tesla management is taking the initiative to increase public awareness. Here in Santa Monica, the company opened a store on tourist-laden 3rd Street Promenade to showcase its new Model S sedan and talk to customers one-on-one. Every time I pass by there are always a lot of people inside. I think this hands-on approach is a wise investment in resources as it brings the product out of the realm of the esoteric into the realm of reality.
This Thursday the company will be making "a major announcement." which is generating a lot of speculation. Rumors on the speculation menu run the gamut from announcing a strategic partnership, a breakthrough new technology (mostly regarding the distance between charges), and a concrete plan to roll out new charging stations. Whatever it is, billionaire founder Elon Musk promises that it will be exciting and of that I do not doubt. For more information on Tesla, please read today's article in SeekingAlpha.com.
Subscriber Notes: There is one new Stock of the Day.