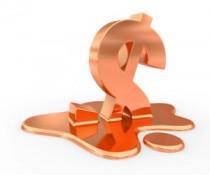 4:00 pm ET: The bears are starting to get restless but the bulls won't be going down without a fight. Yesterday's sell-off in the transport index (DTX) and the small-cap based Russell 2000 (RUT) could be the early warning signs that the bulls are running out of steam. On the flip side, the fact the neither the VIX nor the Trin moved significantly to the upside could just mean that today's sell-off is an isolated event. What makes me think that it could be a lot more than a one day event is the fact that both of the above indexes have broken near-term support. To repeat yesterday's caveat, negative news out of Friday's jobs report could be the torpedo needed to send this rally into an early "Sell in May" swoon, especially on the heels of today's manufacturing figures showing continued contraction in the Eurozone.
What's hot & what's not
Gold mining stocks continue to strike out while health care gets a boost from a raise in Medicare prescription drug rates. Leading the pack to multi-year lows in the gold mining group were Barrick Gold (ABX, -2.5%), Allied Nevada (ANV, -11.3%), Anglogold (AU, -3.4%), Eldorado Gold (EGO, -9.4%). The gold mining etfs (GDX, GDXJ) both shed over 4% while the 3x Gold Mining Bull etf (NYSEARCA:NUGT) lost 12%--ouch! Technically, these charts have not put in a bottom and although I've been reading that a few popular financial pundits are now bullish on the miners, I would not advise building a position in them until their charts show signs of stabilizing. Right now, the bears are still in firm control.
While the gold miners continue to slump, healthcare stocks--healthcare providers, biotech, and big pharma--continue to rise. Many of them broke out to new highs on the Medicare news which could fuel these issues higher. However, the topping tails seen in many of today's break-outs are saying that there doesn't seem to be much buying pressure left to propel these issues higher--at least for now. In this regard, I'd probably hold off before taking a position in any of these just to see if the momentum holds.
Tesla Update
In yesterday's write-up on electric car maker Tesla (NASDAQ:TSLA), I said that the company was scheduled to make a major announcement on Thursday (tomorrow). Either the company moved up the date to today or the source I read that quoted that time was in error. In any case, the company just came out with its announcement saying that it is offering a "revolutionary" new financing product to help buyers get into a Tesla. In essence, it would work as a kind of hybrid between leasing and owning. The result for the consumer is a net monthly payment of around $500. For further details, please read the press release.
Following the news, after hours trading in Tesla is mixed. It will be interesting to see where it opens tomorrow.
Subscriber Notes: There are no new updates.