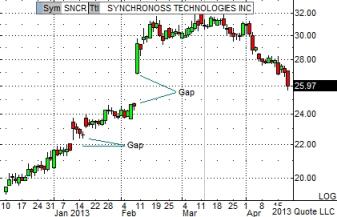 4:00 pm ET: The market continued yesterday's decline yet somehow the S&P, the Russell 2000, and the Dow Industrials managed to hold key levels--barely. The rise in volatility, though, suggests that these levels won't hold for long. Many sectors are testing support levels and the bad news today was that the Information Technology etf (NYSEARCA:VGT) broke a key support level at $70. [The next support level is at $65, FYI.] The breakdown in this fund reflects the continuing decline in Apple (NASDAQ:AAPL) which comprises over 17% of the fund's holdings. Other heavyweights include IBM (7%), Microsoft (7%), Google (6%), and Oracle (5%). All of these issues traded in the red today which only compounded the VGT's malaise. The IT space has been the recent darling of the market and it's due for a breather. If you're long this etf, I'd suggest taking profits or protecting your position as Apple appears to be heading towards its next support level at $350.
Bearish Trade Ideas: Closing the Gap
One chart pattern of great interest to technicians are price gaps. They occur when a stock opens either over the previous day's high or under the previous day's low. The gap suggests further movement in the opening direction and there are times when the stock reverses back to the previous gap point. If a break through the gap occurs, the technical convention is for the stock to continue to fill the gap. When it does so after rally, the move is viewed as bearish.
Today, Synchronoss Technologies (SNCR, $26) entered a large gap created on February 11th. The gap area is from $24.75 to $27. With the share price currently around $26, there's still about a buck and a quarter's worth of expected downside. There's another smaller gap just above $22 and we could see it close that gap, too. Bears may wish to jump on this one but please do your due diligence first!