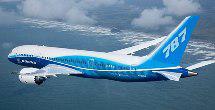 4:00 pm ET: Today's Highlights
The major averages continued their rally despite some negative economic figures. This market seems to be advancing on fumes and some storm clouds are forming on the horizon. To wit: 1. Despite today's advance, the Dow Transport Index (DTX) still hasn't been able to break out of its downward trending channel; 2. The low VIX is indicating growing investor complacency; 3. Negative VWAPS, a measure of institutional selling, are on the rise even on bullish days like today; and 4. Consumer staple stocks are selling off which could be an early indication that conservative investors are moving into the safety of cash. (Also, this sector could just be taking a much needed break.) No need to run for cover yet but you should be readying your game plan if and when the market turns around because it could happen soon and very quickly.
Aerospace and defense stocks saw lift-off today as industry giant Boeing (BA, $91) reported better than expected earnings with an improved outlook for delivery of their problem-plagued Dreamliner. The news not only sent shares of the company to new yearly highs but also those of Northrup-Grumman (NOC, $74) and Orbital Science (ORB, $18). All of these issues gained 3% on heavier than normal volume. On a technical note, I think they're all solid buys at these levels and I particularly like the strength in Northrup-Grumman's chart, having recently rallied through $70 which has proven to be a multi-year resistance level. As an added bonus, all of these stocks pay a 1% dividend.
Upward momentum is increasing in solar stocks which numbered among today's biggest winners. Shares of First Solar (FSLR, $12) jumped 12% on twice normal volume to hit a new yearly high. Outpacing this move was that of JinkoSolar (JKS, $6.54) which gained a whopping 15%, also on heavy volume. The stock broke through $6.50 resistance and if it can keep up this pace, it'll be testing $10 major resistance in no time. The gain in solar issues helped boost a couple of Clean & Alternative Energy etfs (GEX, QCLN) to new highs.
That's it for now. Getting ready for next week's NAAIM conference in Denver so I must scoot.
Subscriber Notes: There is one new Channeling Stock. Regarding yesterday's Stock of the Day candidate (which was up another 5% today), I sold some May 22.5 cash-secured puts for $1.30 as a buying mechanism. The put options are not heavily traded so if you want to follow suit, please use limit orders (day orders only!) and stand your ground. My trade languished for hours until the market maker relented just after the closing bell. (Options can trade for up to a half hour after the bell, FYI.)