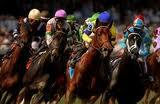 4:00pm ET Better than expected employment data was all that was needed for the S&P to break through the 1600 which has been a source of recent resistance. In so doing, it made a new all-time high as did the Dow Industrials (DJIA) and the small-cap Russell 2000 (RUT). The fact that the Dow Transports (DTX) lead the way is great news for the bulls because we need this index to lead the charge onward and upward. Despite today's 5% drop in the volatility index (VIX), it still has further room to fall giving the rally more room to grow.
Since we're now in uncharted territory, where is the next point of resistance? Well, 2014 earnings on the S&P are projected to be $110. Using the historical P/E ratio of 15 gives a price target of $1650, roughly 2.2% above today's close ($1614). Using a high-end P/E of 17 gives a target price of $1870, or 16% above the current level. We could make it there eventually but I do think the market is overdue for a pull-back. We'll probably get one when it reaches the $1650 level--or when the $VIX drops below 12, whichever comes first.
That's it for today. Off to a meeting. Enjoy the weekend!
The Derby Trade: Don't buy the horse, buy the racetrack!
The Kentucky Derby is tomorrow and if you're itching to play the ponies, why make a risky bet when there's a much safer one? Everyone knows that Churchill Downs (CHDN, $80) hosts the venerable race but few know that it is a publicly traded company. Its stock performance has been stellar: Since 2009 shares have risen 167%! Although the company missed recent quarterly estimates, the stock was able to brush off the bad news by hitting a new high today. Management has ambitious expansion plans--a racetrack/casino complex near Cincinnati and a casino acquisition in Maine. The company pays a 1% dividend and there are options. Mint juleps are extra.
Subscriber Notes: There is one new Stock of the Day.